more news
Pittsburgh Pirates Execs Offer SAEM Students Advice on Internships, Networking, Careers
Thursday, November 12, 2015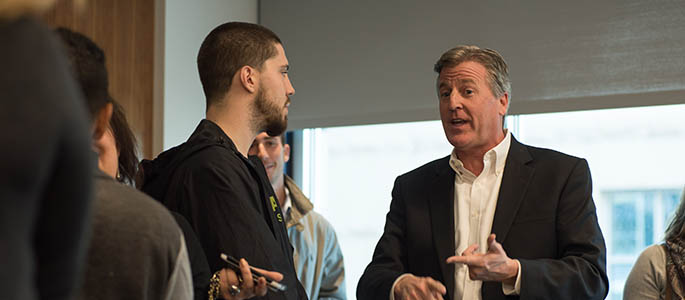 A Point Park student talks with Greg Brown, play-by-play announcer for the Pittsburgh Pirates, at PNC Park.
Pittsburgh Pirates media, marketing and sales executives led a symposium about internships, networking and careers with sports, arts and entertainment management students Oct. 27 in the business center at PNC Park, located within walking distance to Point Park's Downtown Pittsburgh campus.
"It's really cool to see some Pioneers here because Dan Hart and I went to Point Park," said Greg Brown, play-by-play announcer, as he welcomed students to PNC Park.
Panelists from the Pirates front office included:
Dan Bogacz, graphic designer
Greg Brown (former Point Park student), play-by-play announcer
Aaron Cohn, senior director, corporate sponsorships
Dan Hart (COM 1997 and 1999), director of media relations
Nick McNeill, director, new business development
Terry Rodgers, manager, business communications & social media
Christine Serkoch, director, special events & game presentation
During the symposium, the panelists offered words of advice for students to make the most out of their college experience and future careers. Here's a bit of what they had to say:
"Demonstrate that you have a positive attitude, professional work ethic and leadership skills. Be a team player and someone who goes the extra mile." - Nick McNeill
"Be willing to build and develop relationships. The reason I'm working for the Pirates is because of the relationships I've built along the way. There is value to having a buttoned up LinkedIn profile because it helps to piece together someone's career." - Aaron Cohn
"Your internship doesn't necessarily have to be in the exact field you want to be in; think outside of the box because it's all pertinent experience. Someone could be an intern at Pittsburgh Ballet Theatre, and their experience could be just as relevant as it was if they interned at PNC Park." - Christine Serkoch
"Tailor your resume to what you want to do and the position you are applying for. I have 30 seconds to scan your resume; I want to see the most relevant information at the top of the page." - Dan Hart
For SAEM junior Angela Thomas, the opportunity to meet industry professionals enhances her college experience.
"It's great to get advice from executives who know what it takes to make it in this growing field," said Thomas. "I will apply what I learned to my future work at Point Park by continuing to make connections, network with professionals and apply for internships."
Senior Sarah Carini, a transfer SAEM major, said the key message she took away from the symposium is the importance of networking.
"Networking and knowing the right people in the industry can help you get the job of your dreams," said Carini. "When I transferred to Point Park, I knew that the SAEM program would help me reach my ultimate dream job of working for a professional sports team."
More About: student workshop, alumni, Downtown Pittsburgh, Rowland School of Business, internships, transfer, School of Communication, Pittsburgh Pirates, sports, arts and entertainment management