more news
Point Park M.B.A. Alumna is the Youth Policy Manager for the Pittsburgh Mayor's Office
Monday, October 22, 2012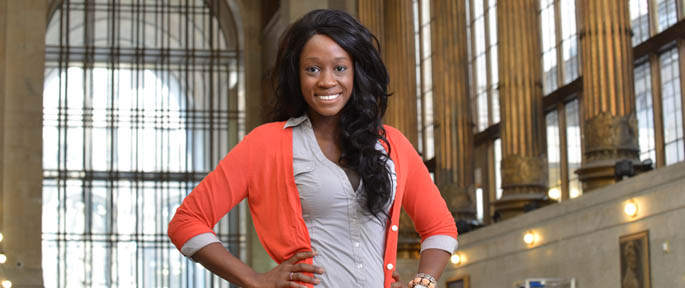 Meet Olivia Benson
Job title: Youth Policy Manager
Employer: City of Pittsburgh, Office of Mayor Luke Ravenstahl
Degrees earned: M.B.A. with a concentration in International Business, Point Park University; Bachelor of Science in Policy and Management, Carnegie Mellon University
Graduation years: M.B.A. in 2008, B.S. in 2007
Hobbies/interests: I'm fortunate to work in a field where I can incorporate my interests into my job!
Hometown: Aliquippa, Pa.
Now living in: Pittsburgh, Pa.
How did you become interested in politics and public policy work?
I have always been interested in public policy. My mom worked in education, so from a young age I was attuned to the needs of the community and how public decision makers play a direct and impactful role in the lives of citizens.
That interest followed me all the way through college and into my first job working in the district office of a U.S. congressman. It was there that I saw first-hand how I could become involved in the political process. I learned right from the start that I could use my expertise and passion to help craft policy and legislation.
Why did you choose to pursue an M.B.A. degree?
As has been noted throughout time, "The business of America is business" and having an understanding of "how the world turns" is definitely an asset in the world we live in today.
In order to craft successful policies and positions, you have to have a strong understanding of business, both locally and globally. An M.B.A. degree was a great fit for me because I knew I needed to have a good grasp on the challenges that confront businesses, particularly in small and mid-size companies.
Did Point Park's campus in Downtown Pittsburgh play a role in your decision to attend the university?
Yes, definitely! Although I graduated a few years ago, it's amazing to see how Pittsburgh has transformed right before my eyes. And as an alum, it gives me great pride to see how Point Park has played a role in helping to facilitate the revival of its Downtown neighborhood.
What was one of your favorite experiences at Point Park?
I really enjoyed taking classes with students from all over the world.

How has your M.B.A. degree helped you in your career path?
Politics and government are highly competitive fields and having an advanced degree has made me a more attractive job candidate for employers. Also, my M.B.A. degree gives me an added dimension when addressing community issues. I not only understand the residents' perspective, but I'm also able to see how that same decision can be used to positively impact the business community.
What are your future career goals?
I hope to stay in a field that allows me to work on causes that are dear to my heart like education or getting youth involved in civic engagement opportunities.
Is there anything else you'd like to add?
Point Park University is an amazing asset to Pittsburgh and I'm very proud to be a graduate of the program.
More About: alumni, success story, M.B.A., Downtown Pittsburgh