more news
Point Park Offers Degree Geared For Firefighters
Wednesday, July 27, 2011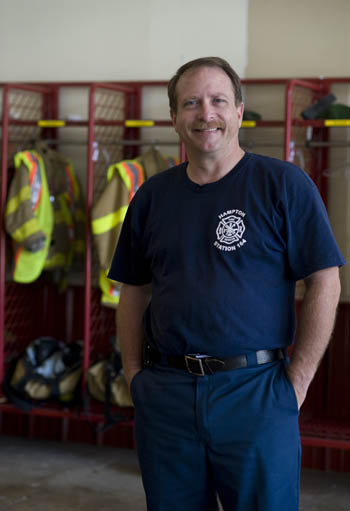 Robert Skertich, Ph.D, director of the public administration program,
and Hampton Volunteer Fire Department fire chief.

It used to be that a college degree was considered unnecessary for a firefighter - instead it was all about being able to "put the wet stuff on the red stuff," as the saying goes.
But that attitude has changed along with the firefighting industry itself. Today, fire departments can be faced with challenges that range from managing drastic budget cuts to responding to domestic terror threats.
To help today's firefighters, as well as paramedics and disaster managers prepare for that wide gamut of responsibility, Point Park University is making it possible for them to turn prior course credits and professional certifications into a more broadly marketable public administration degree.
"We've found an emergency responder with a public administration degree has a skill set that can help him or her handle the varied responsibilities that come with today's firefighting and paramedic jobs," says Robert Skertich, Ph.D, director of the public administration program in the School of Business at Point Park University. "And if at some point they want to move up in their department or branch out into other areas of public service, having a degree in public administration can be a valuable asset," he added.
Skertich speaks from experience. In addition to his position at Point Park, Skertich is the fire chief for Hampton Township Volunteer Fire Department # 1 in Hampton, Pennsylvania. "Anecdotally, managing a volunteer fire department draws on both sides of a public administration degree - both government and non-profit management. Most of my time as fire chief is on budgeting, personnel management, recruiting, occupational safety and health, and interaction with local government leaders," says Skertich.
Even Marcellus Shale plays a part in the Pennsylvania volunteer firefighter's day-to-day challenges. Says Skertich: "While locally elected officials determine the policy on whether or not drilling will be permitted, it's up to the fire department to determine how to manage the response to fire and rescue challenges during the site preparation and drilling phases."
For Roy Cox, a 2010 Point Park University distinguished alumni, earning a degree in public administration was about setting a direction for his career. "I was sitting at the medic station thinking about my goals and decided I couldn't see myself as a responder my entire life and thought I needed to build a foundation to advance my career." Today Cox is the acting district chief for the city of Pittsburgh's Department of Public Safety, Bureau of EMS. He credits Point Park's undergraduate public administration program for "offering a friendly, open-minded learning environment that accepted professional experience and training as a foundation for earning a degree."
In addition to a full degree program, Point Park is offering an online certificate in public administration, accessible for firefighters, police or emergency medical workers. The 18-credit certificate program is a flexible option for personnel who work shifts and are not able to attend classes at the Point Park campus itself.
Skertich points out that even though most fire departments in Pennsylvania are volunteer, "The volunteer firefighter benefits from having a degree that can help them in their civilian career because a public administration degree is basically a management degree and one that can really help a firefighter be responsible for all the jobs necessary in managing a volunteer fire department," he says.