more news
Point Park SAEM Students Selected to Work at Stanley Cup VIP Party
Monday, September 19, 2016

Left to right: SAEM students Angela Thomas, Nicolette Jones and Ericka Thomas

Sports, arts and entertainment management students Nicolette Jones, Angela Thomas and Ericka Thomas were selected to work at a Pittsburgh Penguins Stanley Cup VIP Party held Sept. 4 in Sewickley, Pa.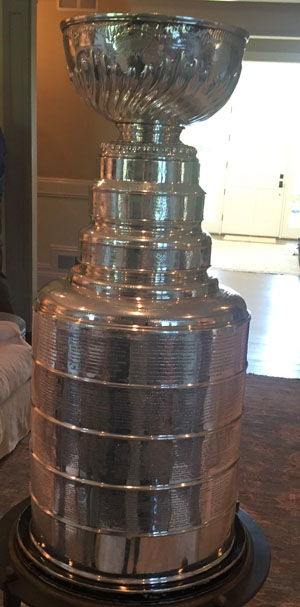 Among those in attendance were David Morehouse, president and CEO of the Penguins, and Kat Smerdel, Penguins director of events and hospitality.
The students were connected to this opportunity after Smerdel and Anna Bixler, special events manager for the CONSOL Energy Center, contacted SAEM Associate Professor Ed Traversari, M.B.A., requesting Point Park SAEM majors to work at the VIP event.
"The success of an event is largely influenced by the staff you put in place. These people are an extension of your plan, your vision and will affect your guests' experience. Working with Angela, Nicolette and Erika was a pleasure. They were prompt, engaged and ready to take on any task that presented itself. Their confident smiles and positive interaction was reassuring to our attendees," Smerdel explained.

Smerdel added: "I was very happy that I reached out to Professor Traversari and look forward to strengthening this partnership with future opportunities."
"Through our strong working relationships like this in the event management field, we have been able to connect students to many great hands-on work opportunities," Traversari remarked.
Hear from the Students About the Event:
"The most beneficial part was getting to work alongside and network with Kat Smerdel, director of events and hospitality for the Penguins. She prepared us so well for the event, which helped us assist guests more efficiently. It was really interesting to work alongside a professional in both the events and sports world." - Nicolette Jones, senior SAEM major
"Kat does an amazing job coordinating these high-profile events. I really enjoyed getting to know Kat and all that her job entails. The day was such a great learning experience. I would definitely love to work more events like this in the future!" - Angela Thomas, senior SAEM major
"Everyone I worked with at this event was very down to earth and professional. I learned a lot about event planning and the different aspects of an event that need to be thought out before guests arrive." - Ericka Thomas, junior SAEM major

Learn More
Learn about the SAEM major at Point Park University and the areas of focus in the program: sports management, arts management, and entertainment management.

Request information about the SAEM program or apply online.
More About: Rowland School of Business, sports, arts and entertainment management