more news
Point Park team introduces tech startup via business contest
Tuesday, April 20, 2010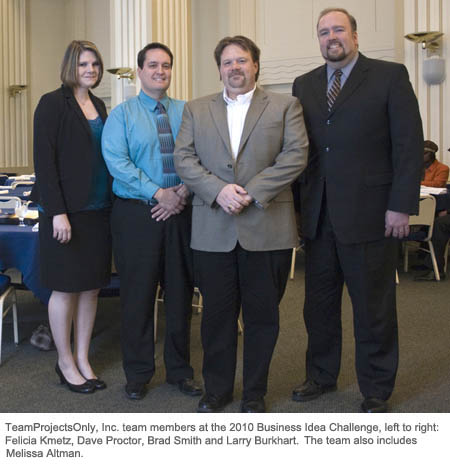 Since launching their high-tech startup several months ago, Point Park alumnus Brad Smith and his team - including three current M.B.A. students -- have been working hard to carve a niche in the Western Pennsylvania market.
Now, they have more exposure, contacts and expert advice to guide the growth of their company, TeamProjectsOnly, Inc., a business-to-business firm focusing on information technology services.
This spring, the team competed in the final round of the 2010 Business Idea Challenge, a program of the Pittsburgh Central Keystone Innovation Zone. Point Park hosted the finals April 12 in the Lawrence Hall ballroom, coordinated by the Office of Career Development.
During the competition, a panel of judges - all economic and business development experts - evaluated the presentations, asked pointed questions and offered invaluable feedback.
"This was a great venue for us to do a live presentation of our product," said Smith, CEO and president of the young firm. "This was a chance to find out where some of our weaknesses were."
The TeamProjectsOnly group represented Point Park in the final round after winning first place -- and $500 -- in a preliminary round out of six Point Park student entries. In the final round, TeamProjectsOnly took third place, winning another $500.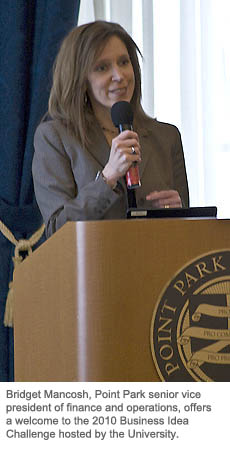 In addition to Smith, the team includes current Point Park MBA students, Felicia Kmetz, Melissa Altman and Lawrence Burkhart, who developed the TeamProjectsOnly marketing plan as a project for their MBA 572 class. The fifth member of the team is Dave Proctor, an accounting and budgeting professional who came on board as the company's chief financial officer.
The Business Idea Challenge, which seeks ideas for a "cool new technology startup," is open to students from Point Park, Carlow and Duquesne universities, and the Community College of Allegheny County.
The judges at this year's competition were: Robert Starzinsky, director of Innovation Works; Robert Hurley, deputy director of the Allegheny County Department of Economic Development; Scott Lammie, Sr. vice president of Insurance Services Division and chief financial officer, UPMC Health Plan; and Michael Matesic, chief executive officer of the Idea Foundry.
Smith, who earned a bachelor's degree in information technology and management in 2005 and an M.B.A. in 2007, officially incorporated TeamProjectsOnly on Jan. 1
The new company uses a business-to-business model to fill what the company sees as a void in the way businesses with computer programming projects find IT professionals to do the work.
Many firms turn to contract brokerage Web sites to find an individual programmer on a project basis. Once the match is made, the contract brokerages step out of the project - often leaving a customer service gap between the business and the solo programmer.
TeamProjectsOnly aims to fill that gap by first matching a team of pre-registered and pre-qualified IT professionals with each project, then remaining involved as a facilitator between the team and the client, from start to finish.
"Our philosophy is that a larger project requires a team, and then we're going to work with you as a facilitator," Smith said. "We don't just leave you there."
Additional Point Park teams
The additional Point Park teams that competed in the preliminary round of the Business Idea Challenge were:
-- Second place ($250 prize): Run Bud Inc., by Ashley Goodsell, journalism and mass communications major
-- Third place ($100 prize): PortaBeer by Douglas Crame, M.B.A. student
-- Honorable mentions ($25 prizes each):
Kids Compute, Dan McVeagh, information technology and management major
ClipFree, Sarah Urick, business management major
EmbolmerNet.org, Kevin Drobish, professional studies and funeral service major
Related Links
Point Park's M.B.A. program
M.B.A. course descriptions