more news
President & CEO of The Rock and Roll Hall of Fame Foundation to speak at Point Park
Monday, January 20, 2014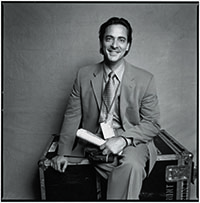 Returning to his hometown, Joel Peresman, president & CEO of The Rock and Roll Hall of Fame Foundation, will speak at Point Park University on Thursday, Jan. 23, from 3 to 4:15 p.m.
Peresman, a South Hills native, will tell the story of how he built a 1970s internship for a Pittsburgh concert promoter into positions with William Morris Agency, International Talent Group Booking Agency, Madison Square Garden, Radio City Music Hall and Live Nation.
The event, which is open to the public, will be held in GRW Theatre in the University Center. Peresman's visit is sponsored by the Department of Sports, Arts and Entertainment Management at Point Park.
Peresman was recently featured in the "Breakfast with …" column in the Pittsburgh Post-Gazette.
More About: student workshop, sports, arts and entertainment management