more news
Professor Leads Webinar on Social Marketing in the Performing Arts Industry
Tuesday, March 22, 2016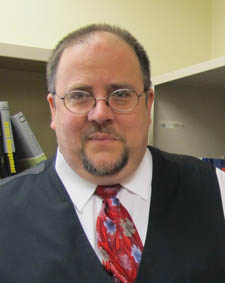 David Rowell, M.F.A., assistant professor of sports, arts and entertainment management at Point Park University, moderated an Association of Performing Arts Presenters webinar March 17 titled "Social and Mobile Marketing Trends Today."
As moderator, Rowell led an online discussion focusing on current trends in arts industry marketing, particularly social media and mobile, and offered best practices from diverse perspectives.

The webinar also explored strategies and tactics in audience research, different social media platforms and choosing the best methods for reaching potential target markets. Joining Rowell for the webinar was co-speaker David Dombrosky, chief marketing officer for InstantEncore.
Rowell has taught and worked in theatre management across the United States. Prior to joining Point Park, he was executive director of the Spruce Peak Performing Arts Center in Stowe, Vt. Before that, Rowell was an assistant professor and head of the M.F.A. theatre management program at Florida State University.

In addition, Rowell has held leadership positions at the Luther F. Carson Four Rivers Center, The Mahaffey Theater Foundation, Peery's Egyptian Theatre and David Eccles Conference Center, and the Val A. Browning Center for the Performing Arts at Weber State University.
Learn More
Learn about the sports, arts and entertainment management program at Point Park University and meet the SAEM faculty.
More About: faculty presentation, Rowland School of Business, sports, arts and entertainment management, faculty