more news
Professor Travels the Southeastern Mediterranean, Meets Greek Orthodox Patriarch of Jerusalem
Thursday, August 23, 2012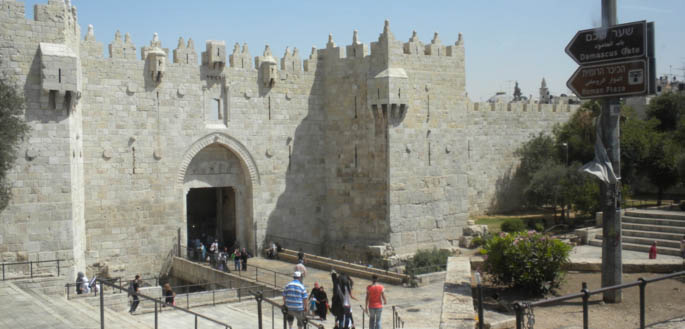 Pictured is the Damascus Gate, the main entrance to the Old City of Jerusalem. Photo taken by Dimitris J. Kraniou, Ph.D.

Dimitris J. Kraniou, Ph.D., professor of international economics and global management and chair of the Department of Global Management and Organization, recently traveled to Israel, Cyprus and Greece as part of his research on energy resources and the geo-political conflicts of the Southeastern Mediterranean region.
"The Southeast Mediterranean was, and will remain long after the Syrian crisis, one of the most explosive areas of geo-political disputes due to the discovery of natural gas and petroleum deposits in this area," explained Kraniou, who teaches graduate business classes at Point Park such as international economics, international political economy and quantitative management.
According to Kraniou, Cyprus, Greece, Israel and Turkey are heavily involved in these disputes but the spillover effects of their actions will go far beyond these countries. "Middle Eastern countries, the European Union, the U.S. and other areas of the global community of nations will be impacted," said Kraniou.
During his trip, Kraniou spoke with college professors and students and had the opportunity to meet with The Most Godly Beatitude Theophilos III, Greek Orthodox Patriarch of Jerusalem and all Palestine, Syria, beyond the Jordan River, Cana of Galilee, and Holy Zion.
"My travels this summer took me to some fascinating places. The conversations I had with people from these areas were remarkable and thought provoking. This trip not only impacted my current and future research agendas but was also a genuine religious pilgrimage," remarked Kraniou.
More About: faculty, graduate programs