more news
Professors, Alumna Discuss International Student Recruitment at IACBE Conference
Tuesday, April 23, 2013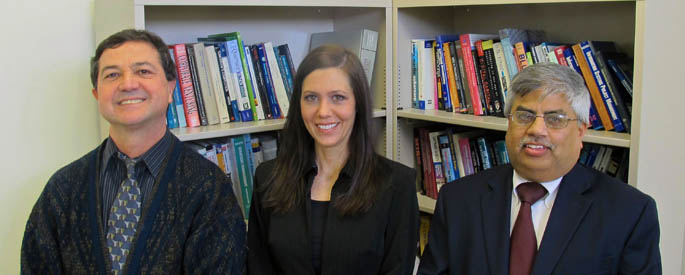 Pictured left to right: Dimitris Kraniou, Ph.D., Dawn Parasolick and Archish Maharaja, Ed.D.

School of Business graduate professors Dimitris Kraniou, Ph.D., and Archish Maharaja, Ed.D., along with 2012 Point Park M.B.A. alumna Dawn Parasolick, presented at the International Assembly for Collegiate Business Education's annual conference in Orlando, Fla., April 16-19, 2013.

Kraniou is chair of the Department of Global Management and Organization and Maharaja serves as director of the M.B.A. program. In addition to being an M.B.A. alum, Parasolick is a student in the M.A. in organizational leadership program at Point Park.

"IACBE's annual conference is a great opportunity to meet with fellow educators from around the world and exchange ideas and learn about new academic initiatives at other institutions. Our workshop on international recruitment and culture was well attended and received positive feedback," said Maharaja.
The theme of this year's IACBE conference was "Business Education Without Borders." Based on the paper they co-authored, the group presented on the topic "Expanding Academic Horizons: Strategies for International Student Recruitment and International Cultural Awareness."
"In addition to presenting data and research on international student recruitment strategies, we conducted a case study on cultural sensitivity and had a panel discussion with attendees," remarked Parasolick.
Learn More
For information about the graduate programs in the School of Business, visit the M.B.A. and M.A. in organizational leadership pages.
More About: faculty, faculty presentation, M.B.A., M.A. in leadership, Rowland School of Business