more news
Prospective Students Tour Stage AE at SAEM Workshop
Tuesday, July 26, 2011


Greg Joseph of The Clarks discusses the music industry.

High school students who attended Point Park's SAEM workshop this summer learned about the various career opportunities within the sport, arts and entertainment management fields while getting a backstage tour of one of Pittsburgh's newest concert venues - Stage AE.
The three-day workshop drew in students from a variety of states including Alaska, South Carolina, Pennsylvania and Ohio. Events management, legal issues, sales development, talent representation, venue design and marketing were among the topics the SAEM faculty discussed with the students.
"I enjoyed hearing from professors who actually work in the field," said Vinnie Garofalo, a senior at Montour High School in McKees Rocks, Pa., "It was also beneficial to be able to meet the professors ahead of time before having them in class," added Garofalo, who is interested in live entertainment and sports management.
Other highlights of the workshop included Greg Joseph, bass player for The Clarks who played his guitar for the students and gave an insider's view of the music industry, and Adam Sutermaster, Stage AE intern and SAEM student, who talked about his experiences working behind-the-scenes for concerts and meeting celebrities like Lady Gaga.
"It was a great hands-on look into the music industry," said Taylor Self, a senior at South Pointe High School in Rock Hill, S.C.
Another key area covered at the workshop was the current marketing strategies being implemented in the sports, arts and entertainment industries. Students reviewed and discussed the launch of the latest Harry Potter film, the record-breaking attendance of the Dayton Dragons Minor League Baseball Team and the ongoing marketing efforts at The Field Museum in Chicago.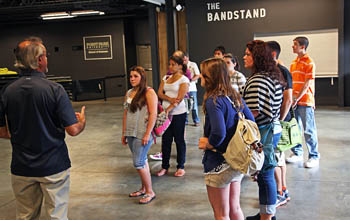 Ed Traversari, SAEM instructor and professional in residence,
leads students on a tour of Stage AE.

"All three of these organizations used social media and very targeted marketing strategies that the students recognized and related to," said Paige Beal, M.B.A., SAEM associate professor.
The workshop also provided the opportunity for students to experience the urban atmosphere of the Point Park campus. "The campus is so upbeat. There is always something to do and see," said Jessica Merritt, a senior at Plum Senior High School in Pittsburgh.
"Overall, it was enjoyable to provide a college-style workshop for current high school students. I believe they really got a taste of what the college experience is about," said Steve Tanzilli, J.D., director of the SAEM program.

Point Park University offers a bachelor's degree in sport, arts and entertainment management, as well as a concentration within the M.B.A. program.