more news
Public Admin Grad and Instructor Help With Hurricane Relief Efforts
Friday, October 21, 2016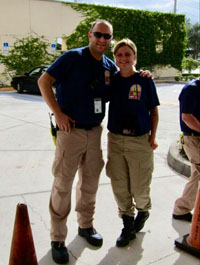 Kate Jones with DMAT colleague
Brian Herskovitz
Shortly after Hurricane Matthew hit Florida, public administration 2015 alumna Kate Jones and Point Park part-time instructor Roy Cox, Jr., Ed.D, deployed to Holmes Regional Medical Center in Melbourne, Fla., to serve as paramedics and assist with relief efforts.
"When we received our mission, some of the hospitals had not yet reopened so Holmes Regional Medical Center saw a surge in patients," explained Jones, a prehospital coordinator for Allegheny Health Network's West Penn Hospital and paramedic for West Deer EMS and Parkview Volunteer Fire Department and EMS.

Jones and Cox assisted in decompressing the surge by treating lower acuity patients in a triage station set up outside of the emergency department entrance.

"We treated patients for three days, working 12-hour shifts," said Cox, district chief for the City of Pittsburgh Bureau of Emergency Medical Services and a 1991 Point Park public administration alumnus.
Jones and Cox are members of a U.S. Department of Health & Human Services' Disaster Medical Assistance Team, otherwise known as DMAT PA-1, based in Pittsburgh.
Roy Cox, Ed.D.
"I was hired onto the DMAT team in the summer of 2013. Dr. Cox is actually the reason I became interested in the team because he encouraged me to apply for an open paramedic position," Jones remarked.
"DMAT PA-1 is like a big second family to me. They are not only some of the most talented people who I ever had the chance to work with, but they also have some of the biggest hearts," she added.

Cox joined the DMAT team in the 1980s and has been deployed to many large-scale disasters and events over the years.

"I love working with my fellow medical professionals, making a difference in the lives of those affected by disaster," Cox said. "It is a pleasure to use my leadership and medical skills to help others."
Learn More
Visit Point Park University's public administration page to learn about the program and the concentrations offered.
More About: alumni, Rowland School of Business, faculty, public administration