more news
Public Administration Alumnus John M. Storey Jr. Receives Fred Rogers Institute Helper Award
Alumni Profile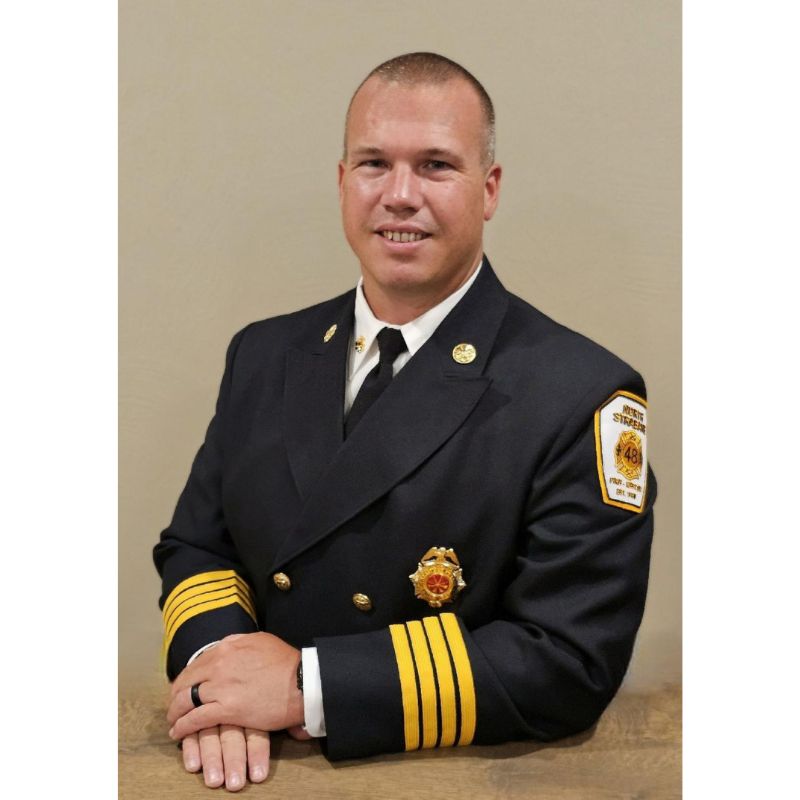 Meet John M. Storey Jr.
Job Title & Employer

Deputy Fire Chief, North Strabane Township Fire Department

Major

Public Administration

Hometown

Hunker, Pa.

High School

Hempfield Area Senior High School

Now Living In

Hunker, Pa.

Hobbies & Interests

Spending time traveling to all 50 states with my wife, Kelley
"John's education and background in public administration have allowed him to join our team at North Strabane Fire Department and be an instant asset. He is well-versed in public sector operations and management."
Richard A. Yosi, North Strabane Township Fire Department Fire Chief
"Point Park University is education-driven, student-committed and focused on real-world experience. In addition to providing a top-notch education, it is my experience that Point Park's faculty are dedicated to the continued development of great people."
John M. Storey Jr.
Look for the helpers. 
It's perhaps one of Fred Rogers' most well-known quotes, and for Point Park University public administration alumnus John M. Storey Jr., it speaks to his commitment to aiding others in times of need. 
Storey, deputy fire chief for North Strabane Township Fire Department, is a 2023 recipient of the Fred Rogers Institute Helper Award, which honors individuals who care for children and communities in ordinary and extraordinary ways in their daily and professional lives. 
In describing Storey's contributions to his community, the institute shared, "As a first responder, John always carries stuffed animals in his vehicle to give to children involved in an accident or fire to help them feel less scared in the overwhelming aftermath of the event. He is a calm and dependable presence in emergencies and follows up with families he serves to check on their recovery and wellbeing. John has organized community Fire Prevention Nights and visits elementary schools and preschools to educate children on fire safety."
In the Q&A below, learn more about Storey's path and Point Park experience.  
What inspired you to pursue a career as a first responder?
Growing up, my dad often took my brother and me to the firehouse where we were able to help with various projects.  Additionally, while working to earn the rank of Eagle Scout, I was afforded many opportunities to help people in differing situations, which led to me becoming a volunteer firefighter with the Youngwood Volunteer Fire Department. Thanks in large part to numerous mentors, I was encouraged to attend various types of trainings, which continued to provide me with opportunities in which I am able to help others within my community. 
Through the course of training opportunities for the fire department, and after working for local government for 17 years, I learned of the public administration program through Point Park.  After further research, I learned not only how great the public administration program is at Point Park, but also that they would transfer some of my firefighting certifications and life experience into credit toward a degree. This, along with the flexibility of the virtual learning platform, allowed me to complete coursework around my work schedule.
How did the program foster your professional growth?
The public administration program allowed me to build upon the knowledge that I had acquired throughout 17 years of working in local government in Pennsylvania. Additionally, the incredible knowledge of the faculty allowed me to continue to excel and provide the best possible service to the communities that I serve. Through participation in the public administration program, I have been fortunate to network with some of the best and brightest industry leaders and Point Park alumni.
Which faculty members have had a significant impact on you?
All of the faculty provided a wealth of knowledge that helped me not only through my enrollment at Point Park but also as I continued with my career. Several faculty members have continued to provide me with guidance, education and opportunities, including Robert Skertich, Ph.D., Darryl Jones, Ph.D., and Thomas Cook. I am eternally grateful for the education that these faculty members provided and their continued support.
I am very fortunate to have had many exciting experiences throughout my career, and many of those wonderful experiences have come thanks in large part to the people who have mentored me as I have continued to grow. Receiving the Fred Rogers Institute Helper Award is one of the most humbling experiences that I have had. Looking through the list of awardees, I am grateful to be mentioned in the same breath as them, let alone being linked with Mr. Rogers whom I grew up learning from and admiring. Having the honor of receiving this award is proof positive that every day we can all make a positive difference in someone's life simply by being kind and empathic.
Describe a moment that affirmed your commitment to this field.
There is not a singular moment that I can point to but rather a series of moments that I have experienced that reaffirm my commitment to the fire service every day. While helping people in their time of need is at the top of the list, thanks to the mentors in my life, I have worked hard to make a positive difference in people's lives either through helping them in their time of need or doing my best to help educate them so that they can strive to be the best versions of themselves.
What advice do you have for students considering a career in emergency services?
My advice for students considering a field in emergency services is to continue to strive forward. There will be good days and bad, but continuing to be the best version of yourself and maintaining a passion for the service will show you how great of a field emergency services can be. The bond that is forged through emergency services is truly something that is remarkable and indescribable all at the same time. The only words I have learned that can come close to describing it is, "For those on the inside, no words are necessary; for those out the outside, no words suffice."
Why would you recommend Point Park to a prospective student?
Point Park University is education-driven, student-committed and focused on real-world experience. In addition to providing a top-notch education, it is my experience that Point Park's faculty are dedicated to the continued development of great people. 
Is there anything else you'd like to add?
Not only is it one of my favorite quotes, but I also find it very fitting to share a quote by Mr. Rogers. "When I was a boy and I would see scary things in the news, my mother would say to me 'Look for the helpers. You will always find people who are helping.' To this day, especially in times of disaster, I remember my mother's words and I am always comforted by realizing that there are still so many helpers; so many caring people in this world."
Connect with John M. Storey Jr.
More About: success story, Rowland School of Business, public administration, alumni, faculty