more news
Public Administration Professor Leads Disaster Preparedness Training
Tuesday, July 14, 2015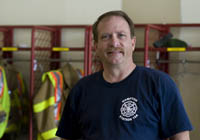 As deputy commander of a federal Disaster Medical Assistance Team based in Pittsburgh, Robert Skertich, Ph.D., associate professor of public administration and director of undergraduate accelerated programs in the School of Business, recently completed a week of intensive training at the Center for Domestic Preparedness in Anniston, Ala.
"This is a Department of Homeland Security training center focused on health care and chemical bioterrorism response. Our Pittsburgh team, working with other DMATs from around the country, teamed up with other classes including administrators and clinical leadership from hospitals around California," said Skertich, who served as incident commander of his group.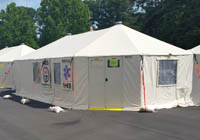 Operation base for Skertich and team
During their training week, Skertich and his team established a field hospital they called "Base of Operations" or "BOO" to receive patients from a simulated explosion and subway collapse.
"The 'patients' were local residents made up by professional moulage make-up artists and given scripts that made them seem like real patients," explained Skertich. "In a period of 3½ hours, we triaged and managed more than 90 patients."

Check out the DMAT PA1 Facebook album to view photos from the disaster preparedness training in Alabama.

Skertich has an extensive background in public and nonprofit administration, serving at the municipal, county and national levels, with a primary focus on public safety and emergency management. His research focuses on leadership and decision-making in disasters.
Visit Point Park's public administration page to learn about the variety of degrees and certificates the program offers.
More About: Rowland School of Business, faculty, public administration, research