more news
Public Administration Professor to Present Research on Pittsburgh's Cold War Air Defense on March 29
Monday, March 19, 2012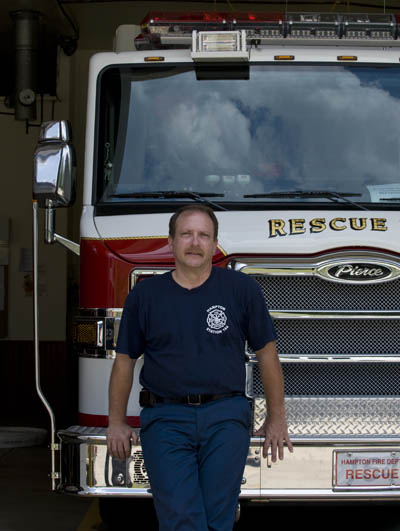 Photo of Robert Skertich, Ph.D., by Martha Rial
Robert Skertich, Ph.D., Point Park University assistant professor of public administration and director of the public administration and undergraduate organizational leadership programs, and Tom Koedel, U.S. veteran and retired police officer, will share their research on the history of Pittsburgh's Cold War air defense on March 29 from 7 to 9 p.m. at the Northland Public Library, 300 Cumberland Road, Pittsburgh.

The presentation will look at the history of Pittsburgh's air defense sites, the military technology, and the social and political issues that exist today.

"In the years after World War II, Pittsburgh was vital to the national defense, and was one of the key targets for enemy attack," explains Skertich. "The U.S. Army established a dozen anti-aircraft gun emplacements around the city beginning in 1952 and later replaced them with surface-to-air missiles, known as Project Nike."
According to Skertich, Ross Park Mall and the police and fire academies of Pittsburgh's North Park were among the locations of the air defense positions.
Skertich has an extensive background in public and nonprofit administration with a primary focus on public safety and emergency management. He currently serves as a deputy commander for the Disaster Medical Assistance Team based in Pittsburgh, part of the U.S. Department of Health and Human Services National Disaster Medical System, and is a certified paramedic and chief of the Hampton Township Fire Department in Allison Park, Pa. Skertich earned his doctorate degree in public administration and public policy from the University of Pittsburgh.

Koedel is a retired police officer with more than 30 years of service. He is also a former EMT, firefighter, and Eagle Scout as well as a retired major with the U.S. Air Force Auxiliary's Civil Air Patrol. Koedel served as an emergency services officer and safety officer and was an instructor at the Allegheny County Police and Fire Training Academies and the West Virginia University Fire Service Extension.

To register for the presentation, call Northland Public Library at 412-366-8100, ext. 113.

For information on Point Park University's public administration degree and certificate (including online) programs, visit the public administration program page.
More About: faculty presentation, faculty, public administration, Rowland School of Business