more news
Renowned Psychologist Talks to SAEM Class About the Business of Sports Psychology
Friday, October 4, 2013
Sports psychologist and Point Park alumnus George Pappas, Ph.D., of the Hartwood Wellness Center, recently guest lectured at a "Legal Aspects of Sports, Arts and Entertainment" class taught by SAEM Associate Professor and Department Chair Steve Tanzilli, J.D.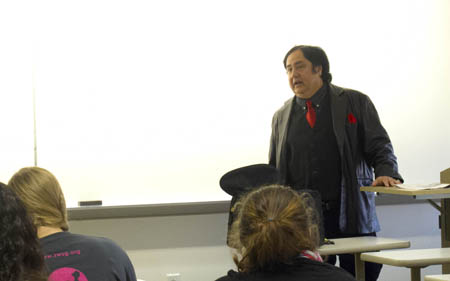 Pappas, a licensed and board-certified psychologist who specializes in cognitive therapy and hypnosis, talked to the SAEM students about the business of sports psychology and mental training.
DeJuan Blair of the Dallas Mavericks and boxer Monty Meza-Clay are among Pappas' list of athletic clients.
During his lecture, Pappas talked about the difficult life challenges he faced while obtaining his degrees (which include a Bachelor of Science in biological sciences from Point Park) and how ethics and faith have guided him during his 20-plus years working in the field of sports psychology.
"I really appreciate the fact that he was so honest about his profession and the difficult journey he had obtaining his degrees. As students, we want to hear about situations like this because we can relate. We want to know that even though we will come across issues and obstacles, there is light at the end of the tunnel if we are willing to relax and work hard," explained Ashley Dobransky, a senior SAEM major.
Pappas also discussed relaxation techniques with the students and offered tips on how they can improve their concentration levels.
"We were pleased to have Dr. George Pappas join our class. He provided great insight into the mental training he does with his clients and gave us a behind-the-scenes look at the business of sports psychology," remarked Tanzilli.
More About: student workshop, sports, arts and entertainment management