more news
Rowland School of Business Professor Tahirah Walker Receives $15,000 Advancing Black Arts Grant from the Heinz Endowments
Wednesday, March 1, 2023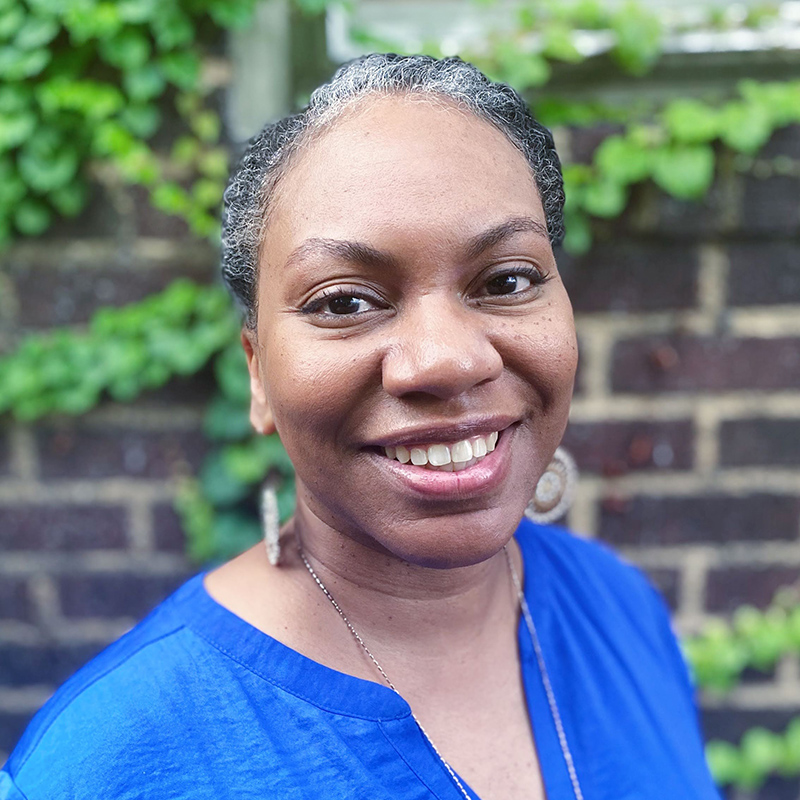 Tahirah Walker, Ph.D., assistant professor of organizational development and innovation in the Department of Community Engagement and Leadership, recently received a $15,000 individual artist support grant from the Heinz Endowments' Advancing Black Arts in Pittsburgh program. The grant will support Walker's effort to create a book of letters, short stories and poems about the experience of being a Black woman in Pittsburgh.
In the Q&A below, learn more about Walker's project, inspiration and how her writing interests and experiences inform her coursework. 
Describe the inspiration behind this writing project. 
A few years ago, a study became a flashpoint in Pittsburgh. The mayor's office commissioned a gender equity report that also included race and poverty lines. The gist of their findings was that Pittsburgh was one of the worst places for Black women to live. Some of the key indicators were things like infant mortality rates, maternal death rates, pay equity, the social determinants of health and built environments. 
I had relatives and friends talk to me about the report, and one of my friends said they read that Black women could go pretty much anywhere other than Pittsburgh and do better. I felt some people were missing a really important point: I'm still here. They were talking to a living, breathing Black woman in Pittsburgh who is making it all work. Few people were asking or talking to me about the things that were going right, like how I've still found joy, beauty and strength as a Black woman in Pittsburgh. I've also raised three daughters here. Imagine being in a space where you're a Black girl and you're told that you could go literally anywhere else. There are a lot of assumptions there, one of them being that a woman has the ability to go somewhere else or wants to go somewhere else. It's also possible for someone to choose to leave and flourish because their Pittsburgh roots and Pittsburgh-bred resilience are key factors in their success. There is not a single story here, and all of these stories matter.
The premise for this book is what if you don't have to leave? What if you don't want to? Yes, there are people who have experienced those awful anecdotes and statistics. They are very much real. Surviving and thriving are also real, and those are stories, too. There are reasons for those stories; they are not just flukes or luck. They are things that have been made and worked for. I want to explore what is underneath that. One of the topics that keeps coming up in my conversations with women for this project is entrepreneurship. Over and over again, Black women in Pittsburgh tell me one of the ways they've made joy for themselves is by starting their own businesses and working through an idea to create a business or an initiative where they got to watch something come to life that they built from the ground up. 
That's where the project began: That story of Pittsburgh being the worst place for Black women to live, that we could go anywhere else, yet still we rise, and how do we do that?
What do you hope to communicate through this project?
At camp, in an old classroom with wooden desks or on a bathroom stall door, you might see that typical carving that says "So and so was here." I think as a really typical '80s kid, I have that cultural nuance burned into my brain. I'm the type of person who has always wondered what was under that. If you see two initials and a heart around them, I want to know what the story was. What I'm hoping to communicate is that a lot of times there are icons we get, blips of things we see and we don't really think twice about them. Take a moment to dig deeper. I want to communicate that there there is no monolith in our stories here. You're going to meet and learn from people from many different walks of life. A lot of my work is focused on women I've met who have helped me to learn so much throughout my Pittsburgh experience, yet I had no idea about the experiences they had or the places they've been. We tend to have this tiny idea of who someone is. Beyond that "I was here" moment, there is so much more to learn.
As a professor, how does this work intersect with your pedagogy?
This semester I am teaching the City-University Life course. I told my students, "I want you all to know I asked for you." I want them to know I enjoy working with them, I learn from them and I see them as people in my life who enrich what I do. I love working with my graduate students as well, but I specifically asked to teach this undergraduate course.
Some of the things we talk about include like what it looks like to tell their own stories, what it looks like to do that in a way that contributes to a new community and what those resources are like. Some of that is driven by me hearing someone say things like, "You could go literally anywhere else." I've heard that same kind of sentiment throughout my higher education career, and I work so hard to push back against it, like when people say, "Look to your left. Look to your right. One of you isn't going to be here at the end of the semester." My work through this grant is a way of saying that the stories of Black women here are varied, not monolithic, and the positive stories are also valuable and belong here. We can't have joy without recognizing there has been pain, but we are going to have the joy, too. I think the same has to be true for how we approach higher education. We have to start with making sure the students know they belong here. It has to start with being able to tell them, "I want you here. I wanted to teach this class."
In one of our recent classes, we had a conversation about friendship. We started peeling back the layers of what it really means to be a friend, and I was like, "Cool, let's go deep. Let's get into it." We let the PowerPoint go away for a minute so that we could sit down, circle up and have some questioning conversations. That's what I'm hoping this book will be about. Let's take that little "I was here" and peel it back to find what was really behind that. I'm happy students feel safe to have these types of discussions with me. Sometimes people say to me, "What does that have to do with the learning objectives or the test?" One of the things we see in higher education research data over and over again is that students learn more when they are safe emotionally with their instructor. I'm fine spending an hour and a half talking with students about what friendship really means because I know when I walk into that classroom tomorrow and we have to go over time management and study skills, what I've invested in that emotional portion will come out for me as a win.
More About: Downtown Pittsburgh, faculty, community engagement, success story, Low-residency program, Pittsburgh, Rowland School of Business