more news
RWS Entertainment Gives Students Insight on Producing Live Events, Managing Major Clients
Tuesday, February 6, 2018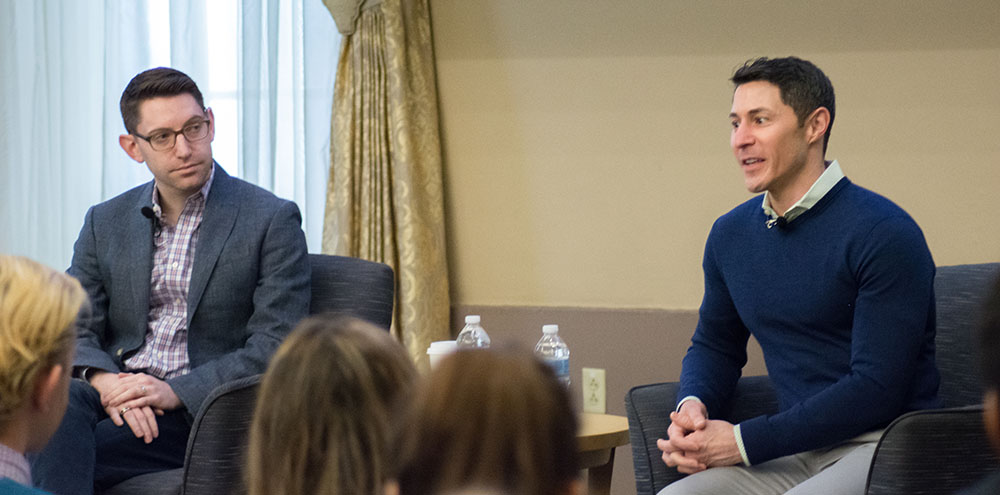 L to R: Joe Christopher, VP of commercial theatre ventures, and Bruston Manuel, chief operations officer

When the sports, arts and entertainment management department welcomed Joe Christopher and Bruston Manuel from RWS Entertainment Group to campus Feb. 1, students learned what it is like to develop, cast and produce live events for venues such as Holland America Line, Lincoln Center and Palace Entertainment Parks and manage clients that include Jennifer Lopez, NBC Universal, Kohl's and Victoria's Secret.
"I was very interested to hear about how they put on different shows, especially at theme parks across the country. I enjoyed learning about how they manage each show from start to finish," said Kaylee Kearns, a sophomore SAEM major from Elizabeth Forward High School.
"On-campus events like this show us just how many paths are available within an SAEM career," Kearns added.
Founded by Conservatory of Performing Arts alumnus Ryan Stana '02, RWS is well known for its development, casting and production of live events and branded experiences.
Additionally, RWS recently launched a theatrical development department after its acquisition of Broadway's Binder Casting.
"It's hard sometimes to imagine what type of job you would do exactly, but events like this help you to envision possibilities for the future. Learning about how actual professionals work gives us an idea of what we could do with our lives as SAEM professionals," explained Justin McGranahan, a freshman undeclared major from Sharon High School who plans to switch to SAEM for the fall semester.
Jillian Svonavec, a junior SAEM major from Somerset Area High School, added: "I love these events and find them very informative. They give us an idea about all of the many jobs that are out there and how they relate to SAEM."
Learn More
The SAEM major in the Rowland School of Business offers a focus area in entertainment management.

Request information, schedule a campus visit or apply online.


Photos by Brandy Richey, junior multimedia major
More About: Rowland School of Business, student workshop, Conservatory of Performing Arts, sports, arts and entertainment management