more news
SAEM 2012 Alumna Ali Lewis is a Director of Events in NYC
Wednesday, May 7, 2014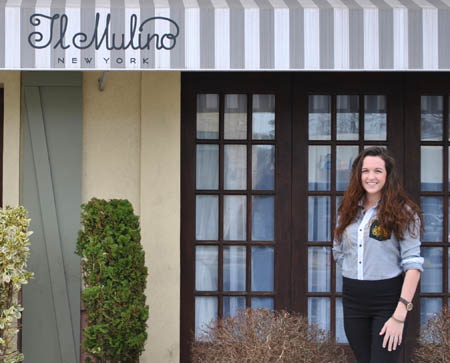 Meet Ali Lewis Choe
Job title: Director of Events
Employer: IL Mulino New York
Degree earned: Bachelor of Science in Sports, Arts and Entertainment Management
Graduated: May 2012
Hometown: Plum, Pa.
Now living in: Staten Island, N.Y.
Hobbies/interests: Staying active, skiing, baking, exploring new places, arts and crafts and spending time with my husband and friends
LinkedIn: Ali Lewis Choe
Update
Ali is now a Special Events Catering Manager for Portland'5 Centers for the Arts.
What inspired you to pursue a degree in SAEM?
After giving up a career in dance due to a reoccurring injury, I was a bit lost. However, I had friends in the SAEM program. All of them were very fun-loving and ambitious people who I strongly admired. Many of them had a concentration on events management so I thought I'd give it a try and it's been a perfect fit!
Why did you choose Point Park?
I've always loved the city and all that it has to offer, and Point Park is right in the heart of it.
Tell us about career-related experiences you had throughout college.
My first internship was an event marketing/sales position with Big Day Wedding and Entertainment. I then went on to work as an event assistant for a boutique wedding planning company called Perfectly Planned by Shari where I gained very crucial experience.
How did you land your position with IL Mulino?
It was a very quick process after I replied to their listing online. They called me in for an interview with the company-wide event director, and I was back the next day to meet the owner.
Describe a typical week.
Working in the restaurant industry you are expected to wear many hats, but my primary focus is catering and events. I first work to gain clientele using traditional marketing tactics such as mailers, meetings with corporate planners, networking and the list goes on. Once I gain their interest in hosting a party with us, I sell them our food options and services including our custom menus. I also write contracts, review details and work with vendors until the day of the event. I then orchestrate the actual events, ensuring the food and service is at its best. Depending on the season, I can have anywhere from two to eight events a week.
What do you love most about your job?
My staff. They are so professional. I rarely have any problems with their services and the clients are always thrilled. It really makes a difference working with people who enjoy what they do and help you have fun along the way.
What advice do you have for prospective students considering a career in your field?
Get experience in as many areas of the field as you can before graduating. Everything from sales and marketing to logistics and design is interconnected so being extremely well-rounded is important to succeeding.
Also, take advantage of being a student. This is the foundation of your future and the SAEM program is a really great way to begin your career. The faculty and staff are very connected within their fields and are so willing to help every student get off to a good start, and that's what makes the program so unique!
What are your career goals?
The restaurant industry has a lot to offer for gaining experience and it is a wonderful opportunity to be a part of a national fine-dining brand. Down the road, I hope to run a small company of my own specializing in social events.
More About: sports, arts and entertainment management, success story, alumni, Rowland School of Business