more news
SAEM and Cinema Production Graduates Intern at New Perspective Communications
Friday, May 23, 2014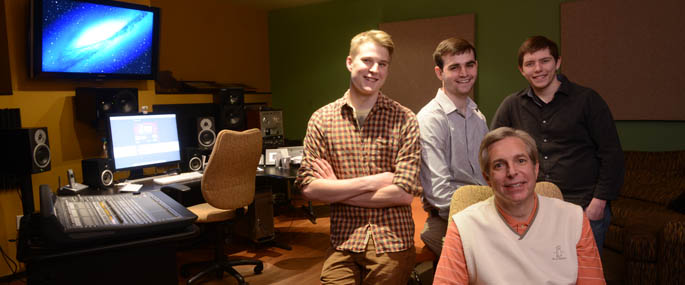 Pictured left to right are Point Park graduates Jayme Jennings, Craig Woolridge and Evan Schall with Dick Roberts, New Perspective Communications president and Point Park adjunct instructor.
Sports, arts and entertainment management alumni Craig Woolridge and Evan Schall, along with cinema production graduate Jayme Jennings, interned at New Perspective Communications Agency in the spring of 2014. Below, the alumni discuss their internship experiences, reasons for choosing Point Park and their career goals.
Describe the type of work you did as an intern for New Perspective Communications.
Evan Schall: Our big project as interns was to create a promotional video for the nonprofit organization, Pittsburgh Cares. I also helped the account service team with any projects as needed, which included working on Giant Eagle marketing campaigns tied into the Penguins playoffs and Pirates season.
Craig Woolridge: As account service interns, our job was to make sure that the video we produced was going to meet all expectations for the Pittsburgh Cares organization. Another project I was excited to work on was updating a client's website with SEO key words so that their site would be one of the first to show up in a search.

Jayme Jennings: My responsibilities as a production intern included being on set to perform a number of tasks typically executed by a grip, assistant camera operator or production assistant. In addition, I was expected to perform a variety of office tasks related to the overall preproduction, production and post-production process including gathering data about potential locations and cataloguing footage from previous shoots.
What factors made you choose Point Park?
JJ: There were two major factors that led me to choose Point Park. The first of which is the reputation Point Park received from a number of Mt. Lebanon cinema and digital arts alumni working in the field. The second factor was Point Park's summer program offered to high school students known as Camp Hollywood. I attended this program in 2009 and was really impressed by the faculty and facilities.
CW: My sister Katie Woolridge is an alumna of the film department. When I visited her while she was attending Point Park, I really liked the urban atmosphere and being directly in Downtown Pittsburgh. Also, no other school has such a unique program as SAEM.
ES: I was drawn to the SAEM major because I would like to get into either the sports or entertainment industry. The SAEM program offers many in-class and out-of-class opportunities to gain real-life experience and networking opportunities with professionals in the Pittsburgh area.
How did your Point Park classes help you with this internship?
CW: My media management class with Dick Roberts, president of New Perspective, was the reason I obtained this internship. Also, classes I've taken in social media and marketing and promotions helped me in the internship.
ES: I have taken a ton of relevant SAEM courses to prepare me for this type of work, so I knew what to expect. A lot of my SAEM professors have worked in the industry prior to teaching, which I think is particularly beneficial for students. As Craig mentioned, our media management class with Dick Roberts was how we were offered the internship.
JJ: I have been able to apply a number of industry skills at this internship, which I learned from my experiences at Point Park. Fortunately, Point Park has a lot of the same camera and lighting equipment that is used on a regular basis by New Perspective. Having experience with the equipment has made the internship process run smoothly. I also learned a great deal about on-set etiquette during my time at Point Park, which translates into an extremely important skill when working with seasoned industry professionals.
What are your career goals?
ES: Ideally, I would like to get a job in sports, either in baseball or hockey, but honestly, I will take whatever I can get. I believe I have done a good job of getting my foot in the door (at least in Pittsburgh) so hopefully I will be able to find a career doing what I love.
JJ: I hope to shoot documentary films that would allow me to travel the world and see new people and places.
CW: I would like to pursue a position related to an account manager or account executive. I believe my experiences from New Perspective will help me to land a job in the account services field.
More About: internships, Downtown Pittsburgh, Sports, Arts, Entertainment and Music Partnerships, sports, arts and entertainment management, cinema production