more news
SAEM Classes Help Students With Business Side of Managing Their Indie-Pop Band
Thursday, May 1, 2014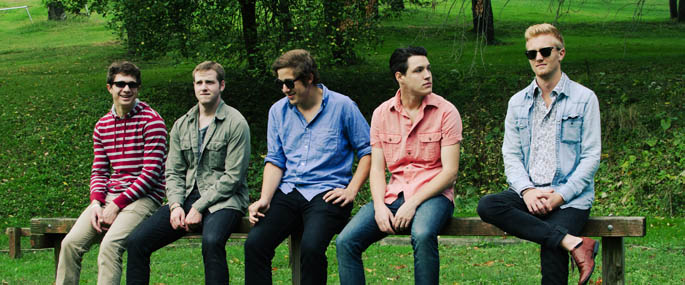 Band members pictured left to right are Chris Cichra, Jeremy Westhead, Adam Valen, Quinn Wirth
and Max Kovalchuk.

Sports, arts and entertainment management major Adam Valen answers the following questions on behalf of his band. Follow the band on Twitter @NevadaColor and check out their feature story in Pittsburgh City Paper.
Tell us about your band Nevada Color.
Nevada Color is a five-piece indie-pop band. Max Kovalchuk (an SAEM major) and our bassist Chris Cichra (a cinema and digital arts major) played in a band prior to Nevada Color. When that band disbanded, Max and Chris asked our singer Quinn Wirth (also a cinema and digital arts major) to start writing music with them. They then asked me to join the band to play lead guitar. Our drummer Jeremy Westhead has been childhood friends with Chris, and was in another band at the time but we recruited him to complete the lineup.
What role have your SAEM classes played with both the band and your career as a musician?
Musically, we pull together many of our influences to create an eclectic, upbeat sound. Our SAEM studies definitely helped influence a lot of the choices we've made from the business side of the band. For example, with Max taking a course in legal aspects of sports, arts and entertainment, it taught us how we can support ourselves as an independent band, both financially and legally. We just recently applied to The American Society of Composers, Authors and Publishers to protect and copyright our music. But knowing things like that, and learning the ropes taught by our professors, have really helped us make smart and effective business decisions.
What was one of your favorite Point Park experiences?
There are definitely a few to name off. One of them, for sure, would be the opportunity Max and I had to attend the Pollstar Live! Conference in 2013 and 2014 with the SAEM club. The opportunity to travel to one of the biggest music industry conferences that brings together industry professionals from across the globe and to get to network with some of these people was phenomenal. It was really a great experience both personally and for the band.

Also, another fond recent memory was during an SAEM Recording Industry class with our instructor Mark Fritzges, the vice president of promotions for Atlantic Records. He brought in Abby Krizner, a DJ and on-air personality (who is fantastic!). Mark played our single "New Mexico" during class and Abby said that it would fit well with 105.9 The X's demographic. After chatting with her for a couple minutes after class, we heard "New Mexico" on the radio week later, which was incredible to me.
What are the goals and future plans for Nevada Color?
We are releasing our debut full-length album "Adventures" on May 6 followed by our release show at Dave's Music Mine in Pittsburgh's Southside on May 9. After that, we are going on our first U.S. tour from May 9 to 30. We have approximately 20 shows scheduled on this tour.
Is there anything else you'd like to add?
My advice for SAEM students is that if you want to do something you're passionate about, remember that nothing is holding you back from doing it. Max says that a lot, and it really is true.

Photo by Alex Papke

More About: Rowland School of Business, sports, arts and entertainment management