more news
SAEM Graduate Chelsea Behanna Named 2014 Outstanding Student Leader
Thursday, May 15, 2014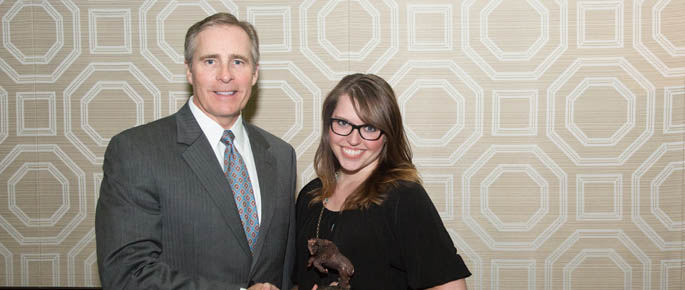 Behanna is pictured with Point Park President Paul Hennigan, Ed.D., at the Outstanding Student Awards.
Meet Chelsea Behanna
Degree earned: B.S. in Sports, Arts and Entertainment Management, 2014
Minor: Public Relations
Hometown: Charleroi, Pa.
Now living in: Pittsburgh, Pa. (South Side)
College Activities: Director of Campus Activities Board, orientation leader, Honors Program and box office assistant at Pittsburgh Playhouse
Internships: Heinz Field, Pittsburgh Penguins and YWCA Greater Pittsburgh
Hobbies/Interests: Cooking, yoga, and taking care of my seven-month-old puppy, Dottie
Twitter: @chels_behanna

"Chelsea is one of those rare student leaders who not only has promoted and pushed for the improvement of the campus culture, but has inspired others to do the same. If you ask many of the other members of CAB who their mentor is, why they got involved or why they are so passionate for their student organization and the University, Chelsea's name inevitably comes up. Chelsea has poured her heart and soul into this University for the past four years by being a leader both inside and outside the classroom." - Brad Kovalcik, coordinator of student activities for the Office of Campus Life
What was your reaction to being named Point Park's Outstanding Student Leader?
I was shocked! There were quite a few nominees and they were all worthy of the award. It was extremely gratifying to walk up there and accept the award. I've had some amazing opportunities at Point Park University and have learned so much about being a student leader, so receiving this award was such an honor and something I'll always treasure.
What factors made you choose Point Park?
I loved how students had such hands-on opportunities at the University. As a freshman, I was involved with activities that I never thought I would get to do as a college student. I was learning so much inside and outside of the classroom. Also, I've always been a city girl, so the urban atmosphere was a big deciding factor. I loved being able to go to school in the city; my backyard was Downtown Pittsburgh. It was wonderful attending a college in a city and having networking opportunities with the companies and organizations that are so close to us.
What were some of your favorite experiences serving as director of the Campus Activities Board?
I absolutely loved watching students grow from being involved with the organization. It was so rewarding seeing my members learn and try new things while on CAB and they all did it with a smile on their faces. I also enjoyed getting to meet all sorts of new people. I've had the awesome experience of developing some of my best friendships through the organization.
Why did you decide to major in sports, arts and entertainment management?
When I first came to Point Park, I was originally a broadcasting major. I loved our School of Communication, but I just didn't see myself pursuing broadcasting as a lifelong career. Ever since I started here, I was always interested in the SAEM program and had a feeling that is where I was supposed to be. I ended up choosing SAEM as a major because of my passion for events of all kinds. The majority of my internships revolved around sports. That opened my eyes to a whole new world of events and I fell in love with it.
What advice do you have for our current students to make the most of their time at Point Park?
Get involved with the University as much as you can. I'm sure students hear this all of the time, but it can't be stressed enough. It is never too late to get involved! Academics are extremely important here at Point Park, but students don't always realize how much they can learn by getting involved with organizations and clubs on campus. There is something for everyone at Point Park and if there's not, students can create what they want to see.
What's next for you?
Right now I am job searching and just trying to find the right job that suits me as a recent college graduate. I would like to end up being involved with special events/event coordination. I'm really enjoying post-college life and am excited to see what life has to offer.
More About: sports, arts and entertainment management, Campus Activities Board, Honors Program, Pittsburgh Playhouse, public relations and advertising, Downtown Pittsburgh