more news
SAEM Majors Gain Event Management Experience Interning for Live Nation
Friday, August 28, 2015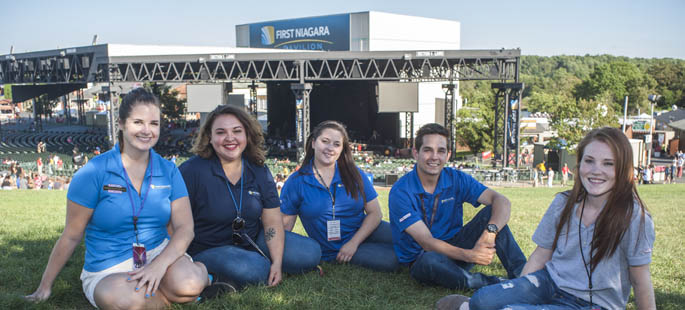 (L-R) Dana Drewniak, Alexa Umana, Nicolette Jones, Keenan Parrish and Meg Davis at First Niagara Pavilion

Five sports, arts and entertainment management majors acquired hands-on, real-world experience in event management, marketing, sponsorships and premium seating this summer through their internships with First Niagara Pavilion, which is part of Live Nation.
Below, the students describe their experiences interning for Live Nation, how their SAEM classes prepared them, why they chose Point Park and their goals for the fall 2015 semester.
Describe your experience interning for Live Nation this summer.
Meg Davis, SAEM senior, from Franklin Regional High School, Murrysville, Pa.: Interning in the sponsorship department was a great experience. I was able to take the information I had learned in class and apply it to real-world experiences. Our biggest projects throughout the season were newsletters and recaps we prepared for the sponsors.
Dana Drewniak, SAEM junior, from Kenston High School, Chagrin Falls, Ohio: Interning for Live Nation this summer was absolutely incredible! I never imagined that I would get to see the different aspects of putting on a show, especially from such an amazing organization.
Nicolette Jones, SAEM junior, from South Park High School, Pittsburgh, Pa.: The experiences I gained from this internship seemed endless! I met and networked with so many people who work at the venue in premium seats, the box office, security and production as well as the people who came through from all of the tours.
Keenan Parrish, SAEM senior, from North Allegheny High School, Wexford, Pa.: Interning for the world's leading live entertainment and e-commerce company provided me with valuable, real-world business experience. I learned from the best of the best and ascertained hands-on business experience by working at high intensity, fast-paced concerts.
Alexa Umana, SAEM senior, from Ephrata High School, Ephrata, Pa.: This was the best experience! I was able to see all of the aspects of the premium seats department. It has been so much fun to be able to learn from some of the best and see how they maintain such great relationships with all of their clients.
What were the main reasons you chose Point Park?
Meg: I transferred to Point Park during my sophomore year because of the SAEM program. The professors at Point Park are extremely helpful not only in the classroom but also when students are applying for internships and jobs. They really want you to succeed.
Dana: I chose Point Park because of the unique SAEM major. I did a lot of research before beginning college to try and find the best major for me. Point Park was the only school I found with a major covering not only music and entertainment but sports as well.
Tell us about your internship responsibilities.
Keenan: As a sponsorship coordinator, my duties included fulfilling sponsorship sales and agreements, tracking and measuring sponsor and venue media coverage and creating sponsor spotlight newsletters and program recaps.
Alexa: For my internship, I had to work at all of the shows at First Niagara Pavilion as well as help out in the office once a week making sure clients received everything they had purchased. I also sent out emails to the clients with day-of-show information.
How did your SAEM classes help you in this internship?
Nicolette: At my internship, my colleagues were always impressed with how knowledgeable I was when it came to the music industry. I owe a lot of that to Point Park's SAEM program. Having faculty who are still active in their respective fields is incredibly beneficial.
Dana: My SAEM classes have provided me with a lot of knowledge that most people do not get until they enter the industry. I feel like I am a step ahead thanks to the SAEM program and the classes it offers.
What are your goals for this fall semester?
Meg: I am taking a lot of SAEM classes and am excited to learn more about the different aspects of the sports, arts and entertainment management field. I will also be working on my resume and preparing for graduation!
Dana: My goals for this semester are to continue to be on the Dean's List as well as manage two part-time jobs with my classes.
Nicolette: I hope to have more opportunities to help with large-scale tours in the area and get into the smaller local music scene as well. Also, I'd like to be chosen again to volunteer for the 2016 Pollstar Live! Conference.
Keenan: My goals are to keep building my professional profile and knowledge relative to the SAEM industry through networking and volunteering and gain a third internship for the spring semester.
Alexa: This will be my last fall semester of college! My goal is to work on getting my G.P.A. to where I want it to be. I also hope to build a small amount of savings and find relevant experience that will help my career for the future.
More About: Franklin Regional High School, South Park High School, transfer, North Allegheny Senior High School, Rowland School of Business, LiveNation, Ephrata High School, internships, Kenston High School, sports, arts and entertainment management