more news
SAEM Professor, Concert Promoter Striving to Make Pittsburgh a Music City
Wednesday, March 15, 2017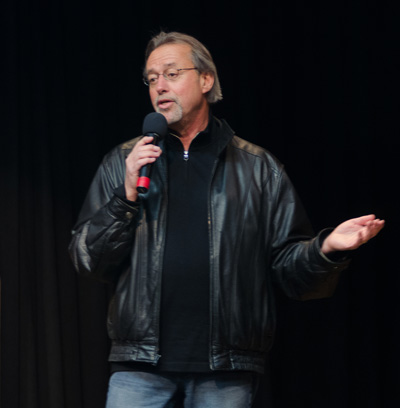 The Pittsburgh Downtown Partnership welcomed Ed Traversari, M.B.A., Point Park associate professor of sports, arts and entertainment management, as a panelist March 8 to help lead a discussion on cultivating a more vibrant music scene in Pittsburgh.
Traversari, a longtime Pittsburgh concert promoter, was recently quoted in the Pittsburgh Tribune-Review article, "Initiative afoot to make Pittsburgh a music city."
In the article, Traversari said: "To make Pittsburgh a viable city for working musicians, there needs to be more collaboration. We have to get everybody together to build a new climate."
Traversari also served as a panelist in February at the Responsible Hospitality Institute 2017 Sociable City Leadership Summit in Austin, Texas. He attended the conference with 19 other Pittsburgh organizations including the Pittsburgh Mayor's Office, the Pittsburgh Downtown Partnership, The Cultural Trust and WYEP 91.3 FM.
"I learned that many cities such as Austin, Memphis, Nashville and San Francisco have created a music office to help coordinate and drive their entertainment activities," Traversari explained.

"After attending the summit, my discussions in class with students centered around what they think makes a music city and who would make good candidates for a music office," he added.
The SAEM program at Point Park offers a variety of courses focused in the area of entertainment management such as the Business of Concerts and Touring, Business of Live Entertainment, Emerging Trends in the Music Industry, Facility and Venue Administration, Music Artist Management, Production Tour Management, the Recording Industry and more.
Learn More
Learn more about the sports, arts and entertainment management program at Point Park University.
Request information, schedule a campus visit or apply online.
More About: Rowland School of Business, sports, arts and entertainment management, Downtown Pittsburgh, faculty