more news
SAEM Professor Ed Traversari Interviewed in New Music Industry Documentary, "Behind the Stage Door"
Monday, September 19, 2022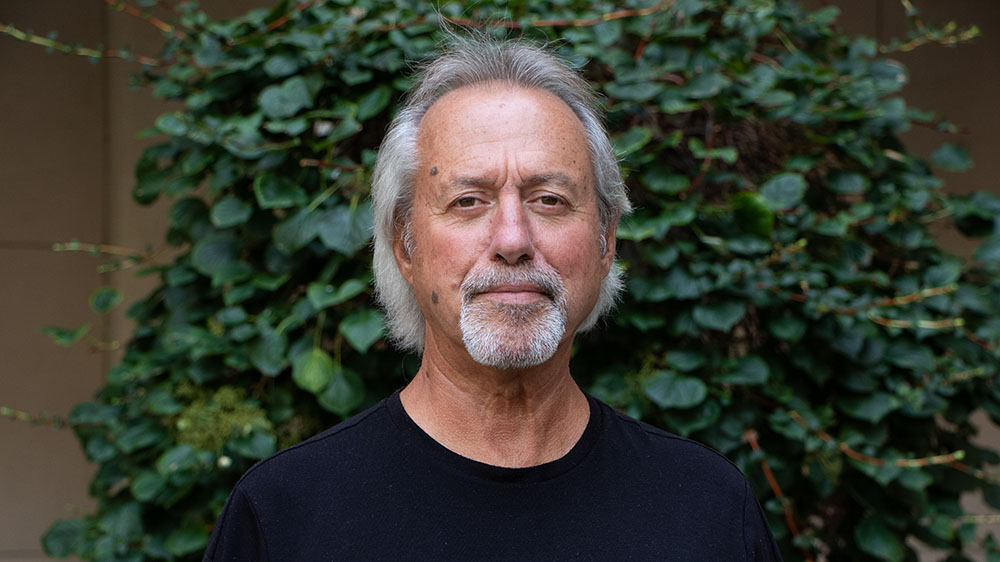 If you ask a Point Park University student majoring in Sports, Arts and Entertainment Management what they enjoy most about class with Ed Traversari, MBA, they will most likely say, "His stories."
The professor brings more than 45 years of live entertainment expertise to his courses, including a full spectrum of behind-the-scenes tales that provide students with real-world examples of what to expect in the field. He has worked with a list of iconic acts that would make any music fan starstruck, including Metallica, Celine Dion, Bob Marley and Bruce Springsteen.

Traversari is one of several entertainment professionals interviewed in the new music industry documentary, "Behind the Stage Door," showing at The Rangos Giant Cinema at Carnegie Science Center on Oct. 1 and 15. The movie is a look at the career of famed concert promoter Rich Engler, who shares the intriguing experiences of working with the most famous bands in the music industry in this inspirational rockumentary. Traversari worked with Engler for more than 30 years. 
In the Q&A below, learn more about Traversari's career and his connection to the documentary.
How did you get involved in this film?
I worked alongside Rich for over 30 years at Dicesare Engler Productions, a Pittsburgh-based concert promotion firm, so I was asked by the director and producers to be interviewed for his documentary. They were really interested in not only what I did for the company, but what it was like working for Rich and what impact he had on my life as a fellow concert promoter. 
What did you enjoy about the experience?
I've been involved with helping Rich and the directors of this documentary since the beginning, spanning about four years. I've assisted them with pulling details about historic concerts in Pittsburgh, reiterating various concert experiences and stories and providing visual elements to help tell the story. It has really been a fun experience just seeing what all goes into a film like this.
What is something about working in the business that often surprises your students when you talk about it in class?
They're most surprised by how I got started in the business. When I tell them that I started as a "runner," making $50 a day driving Rich's Rolls Royce and picking up bands such as America, Jeff Beck and Grace Slick with Jefferson Airplane and taking them from the airport to the venue, they find that pretty amazing.
What has changed the most about the live entertainment industry since you first started out as a promoter?
One aspect that has really changed is that almost all bands and crews travel now by tour buses and not airplanes, which they used to do in the '70s and early '80s. The other major changes are how much production has grown for today's bands, such as the amount of equipment for sound, lighting, lasers and other elements that add to the audio and visual quality. Load-in and setup can take up to a week for stadium shows. How the customer is reached to hear about concerts has also changed quite a bit. We used to rely on radio and newspapers to get the word out, and now the industry relies on social media and web presence to get to the fans. These are all elements of the industry I cover in my courses so that students know what to expect as they launch their careers, as well as how trends impact the evolution of the field.
Describe the key ways in which you prepare students for careers in live entertainment. 
To get them ready for the field, I introduce them to specific experiences that will do more for them than just lecturing them in the classroom. For example, students are able to pursue a variety of hands-on experiences through our program's relationship with Stage AE. We have a classroom in the venue where I take my entertainment classes to on certain days. They have a chance to see what a load-in looks like, see the sound and lights being set up by the crew and stagehands and other aspects of concert production. I also work hard to get them opportunities at venues such as PPG Paints Arena and the Pavilion at Starlake, where our students can become production runners, like I was, and VIP assistants for fan club events. They get to go backstage and work alongside tour managers and road managers just as they would as an entry level employee.
For tickets and more information about "Behind the Stage Door," visit Carnegie Science Center's website. 
Explore stories about the music industry opportunities made available through the SAEM program:
Learn more about Professor Traversari's career in the video below:
More About: Pioneer Records, sports, arts and entertainment management, faculty, Pittsburgh, Rowland School of Business, Downtown Pittsburgh