more news
SAEM Student Gaining Variety of Real-World Experience in the Entertainment Industry
Monday, May 19, 2014


Meet Karley Ferlic
Major: Sports, Arts and Entertainment Management
Expected Graduation: Spring 2015
Hometown: Pittsburgh, Pa.
High School: Bethel Park High School
College Activities: Study abroad program and community dance classes
Hobbies/Interests: Film, music, dance, traveling, Piloxing, staying active, rollerblading, spending time with family and friends and sushi
Entering her senior year this fall, SAEM major Karley Ferlic has already completed internships with The Jim Rome Show, "The Real" talk show pilot and The Ellen DeGeneres Show. She also assisted with Cher and Bon Jovi's concerts in Pittsburgh.
Describe your experiences so far as an SAEM major.
Since it is a requirement for SAEM students to get shadowing experience with a company pertaining to sports, arts or entertainment, I received early exposure to real-world experience in the SAEM industry. I've also taken classes such as The Business of Concert Promotion and Touring and Facility and Venue Design at Point Park's classroom at Stage AE.

Additionally, I've participated in a wide range of tours at local facilities that hold sports, arts, and entertainment events and have networked with various industry employees through career fairs and guests speakers.
How have your classes helped you in your internships?
The SAEM classes have prepared me with what to expect in the work force; both business and SAEM classes helped me learn how to conduct myself in the office and understand common vocabulary used in the industry. These classes also helped me assess a situation and use critical thinking to process and fix the problem at hand. I gained the skills and information on how to make a professional resume and received mock interview experience, too. Also, my professors helped me prepare for and land the internships I wanted. They took the time to review my resume and cover letter and use their contacts to connect me to various opportunities.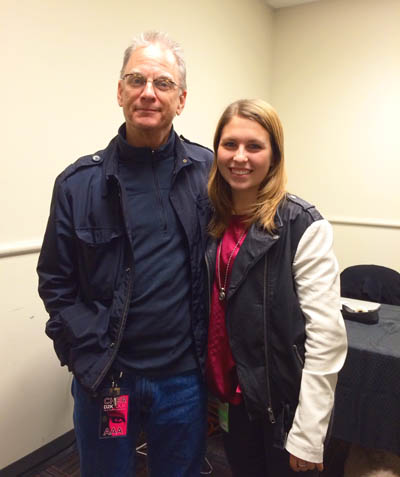 Ferlic with Cher's tour accountant,
Jon Martin

Why did you choose Point Park?
I chose Point Park because of its sports, arts and entertainment management major. I wanted to explore the entertainment and film world as a career and considering the SAEM major is a business program, it seemed like a perfect fit. I also chose Point Park because I was interested in exploring Pittsburgh's film industry that has been rapidly growing. It also helped to know that at Point Park there are opportunities to take my studies outside of the city through study abroad and internship opportunities.
What do you think makes Point Park unique?
Point Park is unique because it is centered right in the hub of a business district that is immersed with sports fields, concerts and theaters. Its location gives students at Point Park in a range of majors various opportunities to get real-world experience with top companies. When you step out of class or grab lunch, you get that urban feel and are interacting with working professionals daily.
What are your career goals?
I was lucky enough to explore Los Angeles for about seven months while completing internships with The Jim Rome Show, "The Real" TV Show pilot and The Ellen DeGeneres Show. A goal of mine was to move out west and explore LA during my time at Point Park. Considering I loved it, my goal after graduation is to permanently move out there in hopes of working in production or at a talent management company. Until that time, my goal is to gain as much experience and knowledge in a variety of areas in the entertainment industry as I can. I plan to study abroad in London this fall, and hope to expand my network in one of the most entertainment-filled cities in Europe.
Is there anything else you'd like to add?
I just want to take the time to thank my professors for all of the help and support they have provided me with over the years! My appreciation is immeasurable.
More About: Career Development Center, study abroad, internships, Stage AE, sports, arts and entertainment management