more news
SAEM student helps rescue Haitian orphans after earthquake
Thursday, February 18, 2010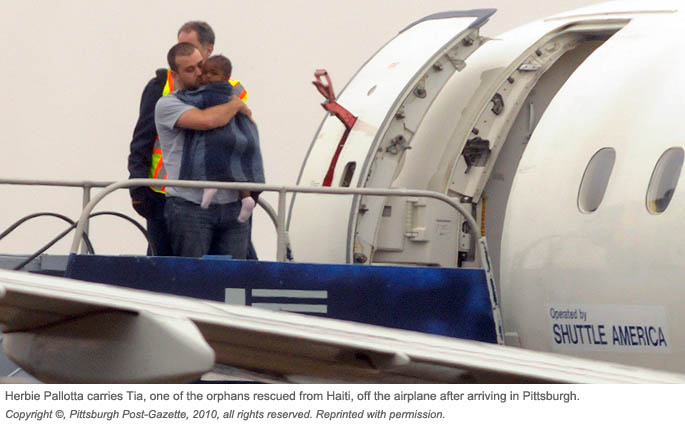 When the news of the devastating earthquake in Haiti broke on Jan. 12, the world was stunned. For a moment is seemed as though everything stopped. Then began a whirlwind of updates, images, videos and desperate cries for help. The first thing Point Park student Herbie Pallotta did after he heard the news was look for flights to Haiti.
"My mom called me that night," Pallotta said. "We talked about the earthquake and how we wanted to do something. My mom told me she had already been looking at flights, too. We both knew we needed to do something."
That "something" evolved into a dramatic rescue mission that brought 54 Haitian orphans back to Pittsburgh. The rescue drew wide coverage in the news media, with photographs and video of Pallotta as the first rescuer to exit the plane, carrying a little girl in his arms.
"I'm extremely lucky to have been able to physically go there and help them," Pallotta said. "I was so touched by these kids. It was amazing."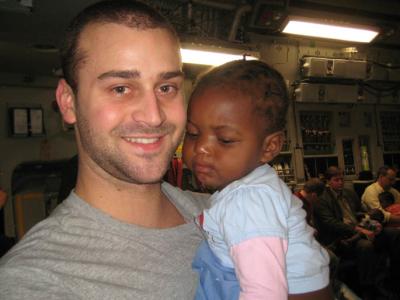 The rescue effort began after the phone call between Pallotta, a sport, arts and entertainment management major (School of Business), and his mother, Leslie McCombs, a senior consultant for government relations at the University of Pittsburgh Medical Center.
Pallotta and McCombs are no strangers to humanitarianism. Originally from Fort Lauderdale, they were in Florida when Hurricane Andrew hit in 1992 and worked on the relief effort in Miami.
Pallotta and McCombs knew they had the contacts and the access to resources necessary to mobilize a relief effort for Haiti. They began planning a trip for February.
At the same time, news spread about two Pittsburgh natives, Jamie and Ali McMutrie, trapped in Haiti with the children in their care at the Les Brebis de Saint Michel de l'Attalaye (BRESMA) orphanage. The trip Pallotta and McCombs had planned for February needed to be expedited.
The flurry of phone calls, emails, meetings and coordination began. Those involved - including McCombs, Pennsylvania Gov. Ed Rendell and U.S. Rep. Jason Altmire -- had pulled together a medical team, two tons of supplies and a plane to carry everyone and everything to Haiti.
"We were to fly from Pittsburgh to Miami and from Miami to Haiti," Pallotta said. "Everyone was on their cell phones while we were in Miami. There were two purposes to our mission - drop off supplies and pick up the kids. We didn't know if we would be able to land in Haiti. We didn't know if we were going to drop off the supplies and then be told to go home without [Jamie and Ali]. We had no idea what would happen."
Their plane was "the first non-military aircraft to come into Haiti." They were given clearance to be on the island for one hour and then they could expect their plane to leave without them. Pallotta and the group had no idea what to expect when they left the airport to go to the U.S. Embassy.
"We were told the kids were extremely sick. We expected them to be near death," Pallotta said.
Riding through Haiti's streets in the middle of the night, Pallotta was struck by the rampant devastation.
"Seeing buildings on their side and bodies in the street is very different from seeing it on TV or in pictures," he said.
When the group arrived at the Embassy, "it was like when you walk into a bar and the music stops." The children were there with Jamie and Ali, "a little dehydrated and hungry but otherwise healthy." After six frightening days of living in the orphanage driveway, "the kids were so happy to see us. They just wanted to be held by anyone."
The older children understood what was going on. Calling Jamie and Ali their parents, the children asked Pallotta if they were there to save them. Although he said yes, he still could not be sure. Many of the 54 children were already in the process of being adopted by American families. Taking them back to the United States was a relatively easy process. The children who had not yet entered the adoption process needed humanitarian parole visas.
Humanitarian parole is a final option when a person "is otherwise ineligible for a visa or cannot benefit from a waiver of inadmissibility and has a compelling and urgent reason to travel to the United States." (Frequently Asked Questions. 2008, Nov. 8. Retrieved Jan. 26, 2009, from U.S. Immigration and Customs Enforcement official website).
Pallotta and the children waited in vans outside of the embassy for several hours before receiving clearance to leave. Despite the long wait, the children were in good spirits, singing and chanting prayers.
The group successfully retrieved the children, Jaime and Ali. But they still needed to get back to the United States. Having stayed in Haiti an unexpected six hours, the plane that had carried them to the island was long gone. Air Force officials stationed at the Haiti airport immediately began working to arrange a ride on board a C-17 cargo aircraft. The BRESMA children had never been on an airplane so the experience of flying in a military aircraft was quite a thrill for them. Coloring books and juice boxes helped keep them occupied.
Orlando was the next stop, where they spent another exhausting six hours "because there was no ride to Pittsburgh,"Pallotta said. It was Tuesday and nobody had slept since early Sunday morning. Children were sleeping on each other and in the arms of their rescuers, who were sleeping in chairs or watching the news.
Eventually, the crew who had originally flown Pallotta, McCombs and the rest of the relief mission to Miami came back to Florida to bring them to Pittsburgh. Everyone was overjoyed to hear of the mission's success and to meet the children.
"The whole trip was an emotional roller coaster," Pallotta said.
Pallott's involvement was no surprise at Point Park.
"What he did, that was probably one of the proudest moments of my teaching career," said Prof. Steve Tanzilli, director of the SAEM program who has taught Pallotta in several classes.
Tanzilli describes Pallotta as a "good, solid kid who puts others ahead of himself." Tanzilli was so impressed with the rescue mission that he gave Pallotta a free pass to "skip my class anytime you feel the need to return!"
Pallotta may be taking Tanzilli up on his offer very soon. Pallotta said he and McCombs are planning to return to Haiti in February to help the on-going relief effort.
Photo gallery
Click the photo below for additional images, courtesy of Herbie Pallotta
Article by Terra McBride