more news
SAEM students attend Pollstar Conference in Nashville
Thursday, March 13, 2014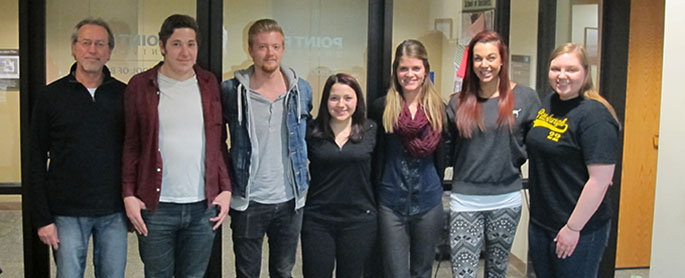 Pictured are six of the eight SAEM students, along with Assistant Professor Ed Traversari (at far left), who attended the Pollstar Live! Music Conference. Check out the photos from their week in Nashville.
Eight students from Point Park's sport, arts and entertainment management club, accompanied by Assistant Professor Ed Traversari, attended the Pollstar Live! 2014 Music Conference in Nashville in February. The conference attracted more than 1,500 attendees from the industry, including top managers, agents and entertainers. In exchange for volunteer service, the students' registration fees were waived by conference organizers.
The six-day trip provided students with valuable insight into careers as booking agents, record label representatives, concert and festival managers and more. It also provided opportunities to meet leaders in the industry, including those they met before the conference began.
"On Monday, we visited National Shows 2, a concert promoter, then went to Treasure Isle Recording Studios, where they were finishing tracks to Jason Aldean's new record," said Traversari.
"That night, we hosted a VIP reception in our hotel with musicians, Arista Records reps and industry leader Ed Salamon, once known as 'country music's most influential programmer.'"
Next, the group attended meetings with top executives at the William Morris Endeavor office and Creative Artists Agency. The following three days were spent volunteering, attending panel sessions - including one with country music star Brad Paisley - and networking at the conference.
"As a sophomore, I'm still learning about jobs in the industry," said Rachel Travisano. However, after hearing two representatives from Arista Records describe their jobs as 80 percent travel, Travisano now knows she is "definitely interested in working for a label."
Junior Adam Valen mentioned the value of learning from top industry professionals at panel sessions. "I took home innovative ideas to discuss with my boss at Drusky Entertainment," he said.
More About: sports, arts and entertainment management, conference, student trips