more news
SAEM students gain experience working on Pittsburgh events
Thursday, March 4, 2010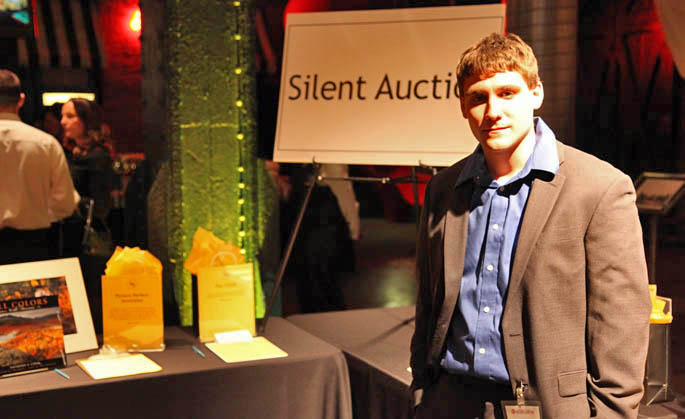 Above: SAEM senior Dan Andreko helped to solicit corporate and private donations for the History Uncorked event, held at the Senator John Heinz History Center in February. Below: An example of a silent auction offering. | Photos by Andrew Weier
Students in the Sport, Arts and Entertainment Management senior seminar are gaining hands-on experience that can be put to use in whatever professional roles they pursue.
"I'm learning how to make cold calls, among other skills, and sales experience is important for everyone," says Amelia Johnston of her senior seminar class.
Johnston and fellow students in the School of Business course are securing sponsorships, soliciting donations and assisting with planning for several major events in Pittsburgh. Last year, seniors worked on the Pittsburgh Marathon. This winter, SAEM students are working on the Senator John Heinz History Center's signature event for young professionals, "History Uncorked," and other events.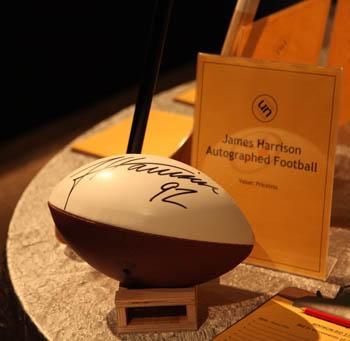 "Students are helping us to solicit silent auction items from businesses we worked with in the past and taking the initiative to approach businesses where they have personal connections," says Sara Gaal, development events specialist with the Western Pennsylvania history center.
"The experience gives them the chance to speak one-on-one with business owners and learn the proper way to make 'an ask.'"
"I'm getting great experience," says senior Dan Andreko. "I enjoy doing events work. To me, it's as good if not better than studying from a book," he says, adding that Point Park provides many opportunities for hands-on work through classes and internships. In addition to his senior seminar assignments, Andreko has an internship with the Senior John Heinz History Center's development office.
Point Park seniors are also gaining work experience through the University's 17th Annual Frank Sinatra Pioneer Golf Classic. Students take on the responsibility for selling tee signs and raffle tickets and soliciting gift baskets, says Assistant Professor Steve Tanzilli, who directs the SAEM program and teaches the senior seminar. He notes that along with gaining valuable experience, being involved with this event has special appeal for students because the fundraiser benefits SAEM programs.
Amelia Johnston received an SAEM scholarship stipend last year for an internship with the Mosaic Media Group, the Los Angeles management and production company founded by Point Park alumnus Jimmy Miller. The scholarship assisted with housing and transportation costs for her and three other SAEM students selected for internships out of state.
Johnston plans to move to L.A. after completing her degree in May. She isn't sure where she will land a job, but she knows the hands-on experience provided by the SAEM program will be a plus on her resume.
Related links
Sport, Arts and Entertainment Management program
SAEM internships
Intern profile: Amelia Johnson