more news
SAEM Students Gain Hands-On Experience at Imagine Dragons and Journey Concerts
Monday, March 7, 2022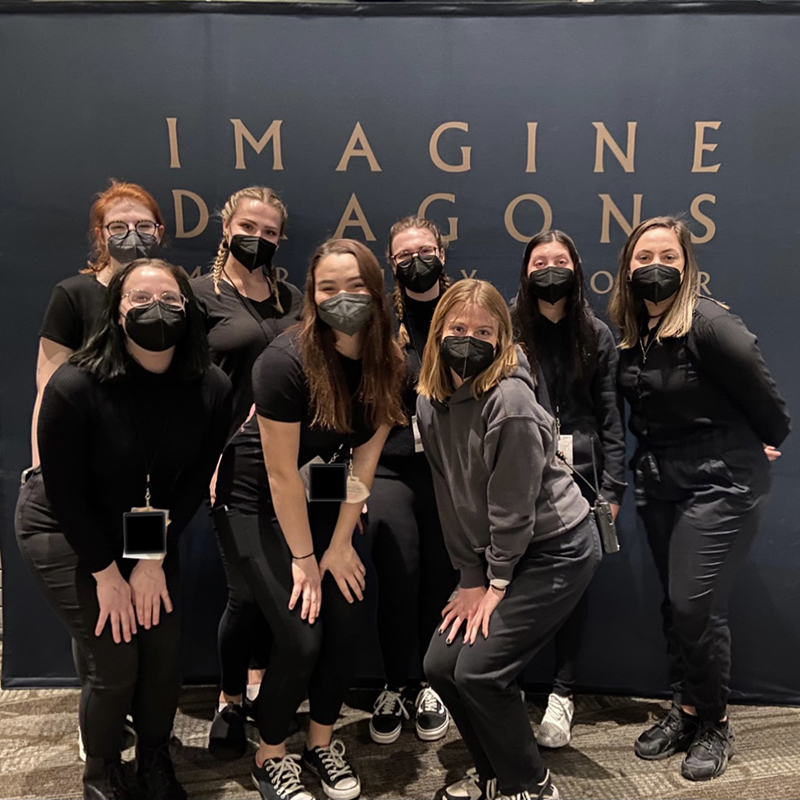 A group of Point Park students assisted with various tasks at Imagine Dragons' recent show at PPG Paints Arena. Submitted photo.
"This was a great way to observe what a day on the road is actually like. I was lucky to work alongside an A-list touring crew, specifically a renowned tour manager, so I was able to ask questions about their careers and get some really great advice from the best of the best."
Shea O'Neill '22, SAEM major
In Point Park University's Sports, Arts & Entertainment Management program, students take classes like Business of Live Entertainment and Production Tour Management to learn about the various positions that contribute to a tour and the skills needed to succeed in such jobs.
Beyond those lectures, faculty connect students with real-world opportunities at Pittsburgh's live entertainment venues, bringing their lessons full-circle for students. Most recently, Point Park students worked at PPG Paints Arena for Imagine Dragons and Journey concerts. 
"Everything we learn in the classroom​ smoothly transfers to experiences like this where you are collaborating with not only multiple people in the touring party, but also providing a fan experience," said Emily Lutz '25, an alumna of Lincoln High School in Ellwood City, Pa. "I've had the pleasure of volunteering at the Women Who Rock benefit concert at Stage AE, along with working various shows, such as Andrea Bocelli and Kane Brown at PPG Paints Arena as a VIP and production assistant."
Lutz, who worked at the Imagine Dragons concert and aspires to be a production manager for a tour or venue, said the SAEM program has given her learning opportunities that she would not otherwise have at another university.
"I really like that from the very beginning of my time at Point Park I'm able to volunteer and work in my area of interest," she said. "It's very apparent that the professors in this department really focus on making sure you succeed."
In the Q&A below, learn more about the benefits of these experiences from Mackenzie Vollant '24, who also worked at the Imagine Dragons concert, and Shea O'Neill '22, who worked at Journey's tour kick-off in Pittsburgh. 
Hometown: Erie, Pa.; Harbor Creek High School
Dream Job: Venue manager or road manager
What tasks did you handle at the Imagine Dragons show?
We started the day by preparing VIP packages for concert-goers. Then we set up the VIP lounge area where guests could play games, enjoy drinks and food and hang out. As guests filed in, I manned the photo booth, where fans could get a virtual picture with the band. We tore down the lounge afterward, and then we got to see the show!
I had the opportunity to talk to our on-site supervisor about everything that she does for the Imagine Dragons VIP program. It was fascinating to learn about all the odds and ends that need to be handled before a show – things most people don't think about when they are attending a concert.
Are there any other hands-on experiences you've had in the SAEM program that you've found valuable?
I had the chance to assist with COVID-19 testing for a Pentatonix show in December. I talked to a lot of the tour members and venue staff while they were waiting for their tests to come back and gained interesting insight into their jobs. I was also at the Andy Grammer Q&A and talked to people on his team about working in the industry. All of these experiences have helped me make awesome, meaningful connections with other professionals in the industry.
Why would you recommend Point Park's SAEM program to a prospective student?
I would recommend it to anyone who has a strong passion for sports, arts or entertainment. Not only do you learn a lot in class, but what makes this program stand out is the amount of hands-on experience that is offered. So many cool and unique opportunities arise for SAEM students, and taking advantage of them is a great way to get experience in your field.
Hometown: Pittsburgh, Pa.; Bishop Canevin High School
Dream job: Tour manager for an arena tour
What did you do as a production assistant at the Journey concert? 
I helped for two days – one day of rehearsals and the actual show day. I handled administrative duties, such as formatting settlement sheets and guest list sheets for the rest of the tour. I also handled manual tasks, such as assisting with setting up the band's lounge and dressing rooms prior to their arrival, unpacking canvases for the band to sign for fans and re-packing them once they were signed and setting up office equipment for their team, such as printers and shredders.
What were some of your key takeaways from this experience?
As someone interested in touring, this was an invaluable experience. Internships don't really exist for tour management, and I can only learn so much from books and interviews. This was a great way to observe what a day on the road is actually like. I was lucky to work alongside an A-list touring crew, specifically a renowned tour manager, so I was able to ask questions about their careers and get some really great advice from the best of the best. Many members of the touring crew echoed the same sentiment: "Work hard, be nice and take every opportunity that comes your way."
What other experiential learning opportunities have you had as an SAEM major?
I've worked at Stage AE for the past two and a half years. I first worked there as a marketing intern. Then I moved into a guest services position, where I am now, which has allowed me to gain experience in the operations side of a venue. I am also an artist management intern for a boutique artist management company out of Nashville called SodaRock Music. This opportunity has allowed me to pivot from the venue to the artist and experience being a member of an artist's team. I've also worked as a VIP assistant for Logic and Imagine Dragons concerts. 
How do you feel Point Park is preparing you for career success?
Point Park does a great job preparing its students for career success through its focus on experiential learning. For example, the SAEM program requires a 20-hour job shadow and a semester-long internship in order to graduate. This encourages students to work hands-on in the field that they are studying. SAEM professors frequently alert students of job opportunities. They are also industry professionals, which allows them to give us real-world examples of the topics we are studying. I feel very prepared to tackle interviews, jobs and real-world challenges from the education I have received at Point Park. 
More About: Rowland School of Business, PPG Paints Arena, sports, arts and entertainment management