more news
SAEM students get inside scoop on making movies
Wednesday, February 24, 2010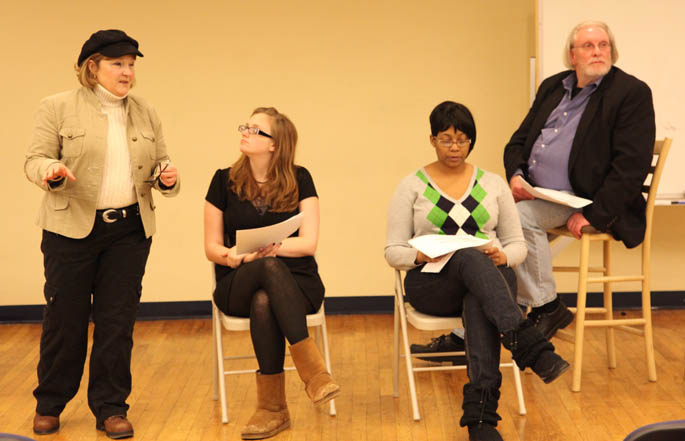 Corey May, creative director at WAR Entertainment, and Russ Streiner, producer, actor and chairman of the board of the Pittsburgh Film Office, work with two Point Park students during a workshop about making movies. | Photo by Andrew Weier
Point Park students majoring in Sport, Arts and Entertainment Management heard first-hand accounts of what it takes to make a movie during a recent workshop titled "From Development to Distribution, What You Need to Know About Making a Motion Picture."
The School of Business session featured Corey May, creative director of WAR Entertainment in Pittsburgh, and Russ Streiner, producer, actor and chairman of the board of the Pittsburgh Film Office. Speaking to students in the JVH Auditorium in Thayer Hall, they offered an insightful look at what it takes to succeed in any aspect of the movie industry -- and in life in general.
Related links
Sport, Arts and Entertainment Management program
Student profile: SAEM major Nick Ceraso
May described how she entered the movie industry after working many years as a gym teacher. When teaching became less fulfilling than it once had been, she decided to pursue her interest in the movie industry by becoming a writer.
In her role at WAR and as an independent writer, May is currently working on three major and very different projects -- a documentary on Prohibition for the History Channel, a Nickelodeon show about kids cooking with celebrities, and a film called "Sleeping With The Fishes."
Streiner is best known for his role as "Johnny" in the horror movie classic "Night Of The Living Dead" and has produced several films including the 1990 "Night Of The Living Dead" remake. He is a co-founder of the Pittsburgh Film Office and teaches media studies at DuBois Business College, based in DuBois, Pa.
Both May and Streiner shared stories of their personal experiences in the film industry. May led a discussion on the all the steps of movie production, focusing on how the process starts and how every detail must be considered to develop a film's budget. Costs for everyone involved -- producers, directors, writers, line producers, cast and investors -- as well as cameras, wardrobe, location, props and production time all affect the budget.
Streiner discussed a wide range of film-making issues and encouraged students to aim high in pursuing their goals: "Whatever you do, do the best you can do."
"If you wait around until someone finds you, you will be 65 years old with a thousand ideas and no one to show them to," he told the students. "You need to go put yourself out there and attack whatever it is you want to do in your life. If you are consistently the first one there in the morning and the last one there at night, someone will take notice and your efforts will pay off."
Author's view
For SAEM students, the workshop was a great way to learn about the movie industry and strategies for accomplishing personal goals. I found everything May and Streiner had to say very enticing and they made me feel like I could accomplish anything. I had no idea how many tiny details went into the production of a movie, but the speakers made it seem attainable if you are willing to put the effort into it.
Just as we've been learning in our classes, making noticeable efforts and making connections with the right people who have already "filled in the pages," as Streiner said, can lead to success in any industry.
Article by Jordan Temchak, SAEM major
THE BUSINESS OF CREATING A MOVIE | A LOOK INSIDE THE MUSIC BUSINESS | STAGE AE PROMOWEST