more news
SAEM Students Network with Professionals in NYC at Arts Management Conference
Wednesday, February 29, 2012


SAEM students pictured left to right are Dylan Landay, Meredith Savage, Madison Lescallette, Elizabeth Cook, Samantha Lynn, and Surrae Shotts.

A group of Point Park sport, arts, and entertainment management students recently took a trip to New York City to attend the 20th Annual Performing Arts Managers Conference hosted by the International Association of Venue Managers, Inc. At the conference, the SAEM students met with professional arts managers, attended engaging workshops on arts management, and toured entertainment venues throughout the city.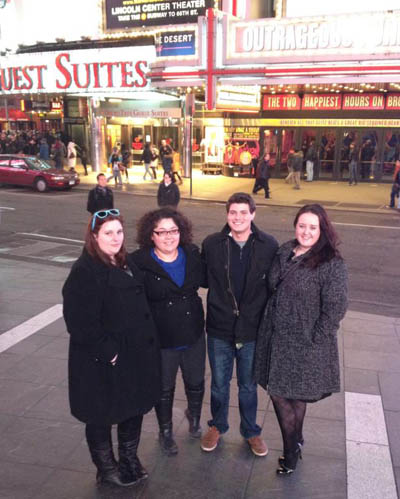 "My favorite part of the trip to was being able to tour various theatres and learn about them," said Meredith Savage, a sophomore SAEM major.
According to Teresa Gregory, SAEM professional-in-residence and the trip's chaperone, students had the chance to see first-hand what it's like to work in a professional arts setting. "The students made excellent contacts and were able to network with arts professionals of international repute," explained Gregory.
"We met almost every single major arts manager from across the country. Not only did we shake their hands but we also ate with them, walked with them, and heard about the success and failures of their organizations," said Surrae Shotts, a junior SAEM major.
Shotts' favorite part of the conference was the tour of the Brooklyn Academy of Music's Harvey Theatre. "The theatre was in decay for 20 years until the leaders of the Brooklyn Academy of Music decided to break in to see what was inside. Instead of restoring the theatre, they decided to freeze its decay in time. The theatre is in gorgeous ruins right now and is such a cool twist on the traditional theatre," remarked Shotts.
Gregory also organized additional networking opportunities for the SAEM students, including meetings with Tom Miller, director of outreach and career development for the Actors' Equity Association and Ginny Louloudes, executive director of The Alliance of Resident Theatres New York.
"The SAEM professors have marvelous connections. They all want us to succeed and are always willing to help," said Savage.

For more photos from the trip, check out the SAEM Club's Facebook page.