more news
SAEM Students Work in VIP Area at The Who Concert
Wednesday, March 30, 2016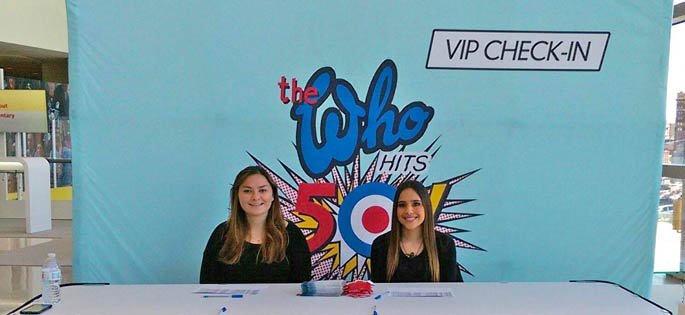 L to R: SAEM students Ericka Thomas and Haley Olah working at the CONSOL Energy Center

Point Park University sports, arts and entertainment management majors Haley Olah and Ericka Thomas were selected to work at The Who concert, held at the CONSOL Energy Center March 16.
Olah and Thomas assisted in the VIP area, where guests enjoyed dinner and received special merchandise from the British rock band.
"We were responsible for setting up the party dinner room, checking in guests and making sure everyone was satisfied with their VIP experience," explained Thomas, a sophomore SAEM student.
According to Associate Professor Ed Traversari, M.B.A., working concerts at the CONSOL Energy Center is part of the SAEM program's commitment to providing behind-the-scenes work experience for students whose career goals are to work in the live entertainment touring industry.
"This experience opened my eyes to the fact that there are so many aspects that go into a tour. I am grateful for these types of opportunities because having hands-on experience is so valuable in the music industry," remarked Olah, a junior SAEM major.
Thomas added: "I have always dreamed of working for a tour someday so it was nice to learn about the different positions available in a large touring act such as The Who."
Learn More
Check out where graduates of the SAEM program at Point Park have landed positions in the sports, arts and live entertainment industries.
More About: Rowland School of Business, sports, arts and entertainment management