more news
School of Business Students Compete as Finalists in Auditing Case Study Competition
Thursday, December 6, 2012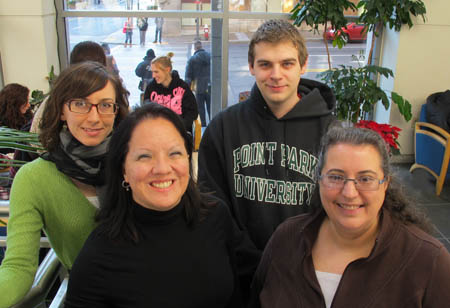 Pictured left to right are School of Business students Heidi Gregori, Deborah
Kostrub Scott, Justin Smith and Rosemarie Papariella.

The team of accounting students Heidi Gregori, Rosemarie Papariella and Deborah Kostrub Scott, along with information technology major Justin Smith, competed as finalists in the first Pittsburgh Institute of Internal Auditors/Pennsylvania Institute of Certified Public Accountants Case Study Competition held on Nov. 7.
"Our students put a great deal of effort into studying the details of the case and putting together essays, flowcharts and a PowerPoint presentation for the competition," said Associate Professor of Accounting Cheryl Clark, CPA, M.B.A.

"I am extremely pleased that our students were invited to the finals. It was a great accomplishment," added Clark.
According to Clark, six independent judges reviewed the case study submissions. "This team understood the IT aspect of both risks and controls better than a majority of the submissions I examined," wrote one of the judges.

"Our case was to identify current audit controls in place at a fictitious high-end clothing boutique, examine any risks involved and then suggest improvements and audit testing," explained Gregori, whose career goals include working for a public accounting firm and earning a CPA license.
The auditing competition was held at the Pittsburgh office of ParenteBeard, an accounting firm ranked among the top 25 in the United States. Point Park competed against teams from Carlow University, Duquesne University and the University of Pittsburgh.
"This team experience was very much synonymous with what one might expect to come into contact with in the field of IT as well as many other fields. I enjoyed working alongside three wonderful, highly-educated teammates," remarked Smith, who hopes to work in software development after graduation.
"Everyone pitched in and did their fair share. We knew we could count on each other," said Papariella. Like Gregori, Papariella also aspires to work for a public accounting firm.

Scott described the competition as a positive, real-world learning experience. "Everyone on our team has his or her own unique strengths which we were able to use to create a great final product," she said.
More About: student competition, information technology, accounting, Rowland School of Business