more news
Senior Accounting Student Selected as Institute of Internal Auditors Student Ambassador
Tuesday, May 21, 2019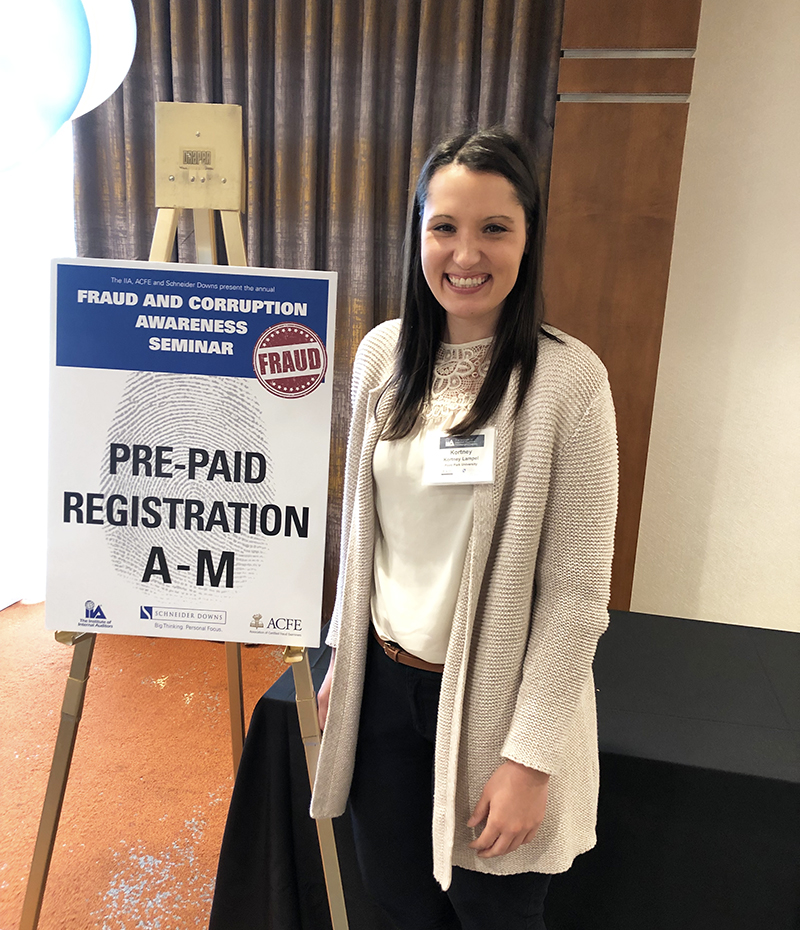 "As I enter my senior year, I feel prepared both academically and professionally. This is a direct reflection of the faculty at Point Park."
Kortney Lampel
Rising senior accounting major Kortney Lampel was selected by The Institute of Internal Auditors Pittsburgh Chapter to be Point Park University's student ambassador.
Additionally, Lampel recently attended the 2019 Fraud and Corruption Awareness Seminar hosted by IIA, Schneider Downs and the Association of Certified Fraud Examiners.
Joining Lampel at the seminar was Margaret Gilfillan, MBA, CPA, professor of accounting and chair of the Department of Accounting, Economics and Finance and Information Technology in the Rowland School of Business.
"There were 500 attendees at the seminar, representing all financial industries throughout Western Pennsylvania. This was a great networking opportunity for Kortney since these organizations have tremendous reach in the region," Gilfillan explained.
Lampel is the president of the Student Accounting Association and a Wiley CPA Review Student Ambassador. This past winter, she served as a volunteer for the IRS Volunteer Income Tax Assistance program, helping low-to-moderate income families with their taxes. 
"Opportunities like the Fraud and Corruption Awareness Seminar add value to what I am learning in the classroom. I am grateful to my professors for pushing me to experience events like this," said Lampel, a graduate of Windber Area High School in Windber, Pa.
This summer, Lampel is interning in the indirect lending department for First National Bank and she has an internship lined up for the fall with Schneider Downs.
"From the very beginning, my professors at Point Park have exposed me to many real-world experiences, and I've gotten to meet industry professionals because of it. Not only am I learning from great professors in the classroom, but they are exposing me to the industry as well," explained Lampel, whose goal is to work in public accounting after graduation.
She added: "As I enter my senior year, I feel prepared both academically and professionally. This is a direct reflection of the faculty at Point Park."
More About: Windber Area High School, Rowland School of Business, accounting, Schneider Downs, Student Accounting Association