more news
Six Point Park Graduates Land Positions With Online Event Ticketing Company ShowClix
Friday, March 10, 2017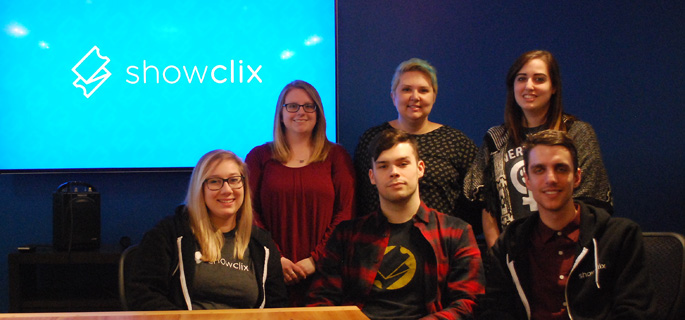 Left to right: Jessica Merritt, Amy Constantine-Kline and Stephanie Driscoll (back row); Ally Zrowka,
David Kennedy and Clayton Stasenko (front row)
Meet the Point Park University Alumni Working at ShowClix
"Point Park plays a critical role in the professional development of their students by offering a variety of unique experiences that some college students do not get until after they've graduated. Whether it's internships, networking or in-depth classes taught by industry practicing professionals, Point Park's SAEM program continues to excel at providing students the skills and confidence required to becoming important contributors within an organization such as ours. I couldn't be more thrilled with the opportunities I've had to network with Point Park's SAEM faculty, staff and student body."

-- Ryan Hurst, Director of Customer Care, ShowClix

---
"Going to Point Park inspired me to start reaching out to others who were involved in different facets of the industry … I met people who pointed me in the right direction to get my box office experience and eventually this job with ShowClix.
"
-- Clayton Stansenko, SAEM 2015 graduate

---
How did you land your position with ShowClix?
Ally: Networking and connections are such a big part of how I landed this job, and how a lot of people in the SAEM industry get jobs! Jessica Merritt, who I worked with at Highmark Stadium (and a fellow Point park alum!), started working at ShowClix and reached out to me and recommended I apply. I wanted to stay in the Pittsburgh area and ShowClix seemed like it would be a great fit. I had box office experience and it seemed like the perfect place to put that and my general event experience to the test. Also, the positive feedback I was hearing about the company really got me excited about the position, and a few weeks after interviewing, I got the job!

Amy: With almost 20 years of experience in nonprofit arts management, mostly in Pittsburgh, I was familiar with ShowClix and friendly with the COO, Brian Arnone, who I had met at the International Ticketing Association conference years before. My vast experience in serving customers, acting as the ticketing systems administrator as well as understanding event marketing, pricing strategy and revenue management, were key factors in obtaining my current position.
Jessica: When I was looking for a job before graduation, a handful of my coworkers from different jobs either were working at ShowClix or had worked there at some point in time. I knew I wanted to work in ticketing or a box office so those people pushed me to look at ShowClix and pursue opportunities there. Angela Scaramucci from the Career Development Center and SAEM faculty members had connections at ShowClix and encouraged me to pursue a career there as well. I also had a ton of experience from previous positions with Highmark Stadium, the David L. Lawrence Convention Center, The Penguins Foundation, Opus One Productions and more that gave me the experience and knowledge which helped me to land my role at ShowClix.
How has your Point Park education helped you in your role with ShowClix?
Amy: My education at Point Park created connections to the event industry that awarded me my first arts management position at the Pittsburgh Ballet Theatre, a job I began as a sophomore at Point Park. Directly following graduation, I began working as the assistant box office manager at the Pittsburgh Playhouse, and followed that with positions in ticketing at the Columbus Association for the Performing Arts. I returned to Pittsburgh in 2008, and spent seven years managing the box office and marketing for Manchester Craftsmen's Guild Jazz, before beginning my job at ShowClix in 2015. This career path was directly attributed to the education I received at Point Park.
Clayton: Going to Point Park inspired me to start reaching out to others who were involved in different facets of the industry. It was through reaching out to people and volunteering at different events and organizations around the city, that I met people who pointed me in the right direction to get my box office experience and eventually this job with ShowClix. Having that push from my SAEM professors at Point Park was paramount in my development.
David: The sports, arts and entertainment management program exposed me to a lot of different aspects of the entertainment industry. The emphasis on internships and real-world experience pushed me to take on some varied roles and opportunities. Each of the roles I've been lucky enough to have worked in have provided me with valuable lessons and insight which have all helped me in my current role at ShowClix.
What factors made you choose Point Park University?
David: I was really drawn to the unique offering of sports, arts and entertainment classes all included in one degree program. I came across a few other programs offering a music business degree or something similar, but nothing covered as wide a scope as Point Park's SAEM program. Another factor that contributed to my decision was financial aid. I was offered a considerable scholarship upon transferring to Point Park.
Jessica: The SAEM major was the biggest factor for me, especially with the program's reputation and the sheer experience of all of the faculty. I really felt as if I could learn a lot from all of my professors. Point Park's urban campus was another driving factor in deciding on the school. Since it is right in Downtown Pittsburgh, I knew I would have access to so many different opportunities, which would lead to gaining industry experience while in school.
Stephanie: The small class sizes were an important factor in narrowing down my choices for colleges, and Point Park is the perfect size to receive individual attention from professors. I also liked that the campus is located in Downtown Pittsburgh with many opportunities to grow as a professional. The opportunities I received at Point Park have opened more doors than I can count!
What are your career goals?
Ally: Right now, my career goal is to continue growing within my current role here at ShowClix. I absolutely love it here, and plan to stick around as long as I can. With more knowledge will come more responsibility, and I look forward to growing within my role, as well as within the company. I am excited to see where this experience takes me throughout my career.
Clayton: My career goal had always been to be involved in the music industry in some way, but as of recently, I am most focused on developing more customer care management skills. Although I have quite a bit of interest in working in account management, I have also been dedicating some of my limited free time towards teaching myself how to code. All in all, my main goal is stay in the event world in some capacity, preferably from a marketing or management standpoint. If I had the choice for exact specifics, I would love to work with a crew like Amsterdam's Dekmantel.
Stephanie: I would love to continue growing and thriving with ShowClix. I started last November and it seems as though time has moved so quickly! Everyone at ShowClix is so encouraging and wants to see you succeed. It's a great company culture and I hope to continue learning and thriving from it.

Photo by Sydney Patton, sophomore sports, arts and entertainment management major
More About: Plum Senior High School, Downtown Pittsburgh, sports, arts and entertainment management, ShowClix, Rowland School of Business, Mt. Lebanon High School, Career Development Center, Peters Township High School, Deer Lakes High School, transfer, Yough Senior High School, alumni, scholarships