more news
Sport, Arts and Entertainment Management Major Interning at Disney World
Thursday, July 5, 2012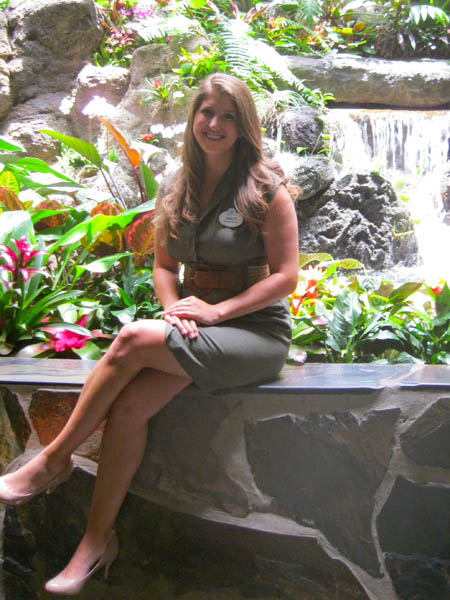 Dobransky poses at the Disney Polynesian Resort.
Photo by Kristin Bielby

Meet Ashley Dobransky
Internship: Attractions Hostess in the Magic Kingdom through the Disney College Program
Major: Sport, Arts, and Entertainment Management
Minor: Business Management
Expected Graduation: May 2013
College activities: Alpha Chi National Honor Society
Hobbies/interests: Singing, running, piano and dance
Hometown: West Mifflin, Pa.
Why did you decide to intern with the Disney College Program?
I have been interested in participating in the Disney College Program since I was in high school. I've always admired the company's commitment to detail and customer satisfaction. Also, since I heard nothing but phenomenal feedback from those who have participated in the program, I thought I would give it a shot. The Disney Company is also on the top of my list of companies that I would like to work for in the future so getting a foot in the door with the college program was the perfect place to start. The networking opportunities are endless!
What has been your favorite experience so far with the internship?
My overall experience with the program has been fantastic so it is hard for me to just choose one. This is my first time living completely away from home, so learning the basics of being on your own has definitely presented fun challenges such as getting lost in the Orlando area. My favorite work-related experience has to be when I received the opportunity to train in Storybook Circus, the Magic Kingdom's new and upcoming land area. It was an honor to be selected as part of the opening team and have the opportunity to meet project managers, imagineers, business executives and other staff from around the world.
Why is the SAEM major a good fit for you?
It is such a great major and fantastic fit for me since I am interested in all three areas that SAEM has to offer. I originally chose this major because I wanted to go into the field of sports. However, as I began to take classes, I found that the entertainment field was where I felt most knowledgeable, skilled and passionate. Being part of the SAEM major has allowed me to grow and discover more about myself, and for that I would like to thank the sensational SAEM professors. They play a large part in why the program is as successful as it is. The professors are always there to guide students and help them pursue their career goals.
What factors made you choose Point Park University?
I chose Point Park because of two main factors. The first is because it offered the SAEM program. Most schools only offer one aspect of this major, such as sports management or a subsidiary of event management. I liked the idea that sports, arts and entertainment were combined into one, so I could understand all parts of these fields. The second reason I chose Point Park was because of its location. The school is in the heart of Pittsburgh, a city that is always growing. We have three major sports teams, the Cultural District, and now we are becoming known as the "second Hollywood" due to large production companies shooting blockbuster hits here. Point Park students literally have opportunities knocking at their door.
What advice do you have for students considering an internship in the parks and recreation industry?
Get ready for long and hot days! But on a more serious note, I have found that the parks and recreation industry has a lot to offer. I have spent my past six summers working for Kennywood. The skill set I acquired there prepared me for my internship with Disney. Now with Disney's training, I will have a great company to list on my resume and an entirely new set of skills in place for my next job. Overall, the parks and recreation industry is a fun way to learn the basics and interact with people from different cultures. Sure, the days are long and tiring, but I would not have wanted to spend my summers any other way. So I say, go to your local amusement or theme park and try it out for a summer!
More About: sports, arts and entertainment management, internships, Rowland School of Business