more news
MBA Alumna Sridevi Vemulapalli '16 is a Vice President at PNC
Alumni Profile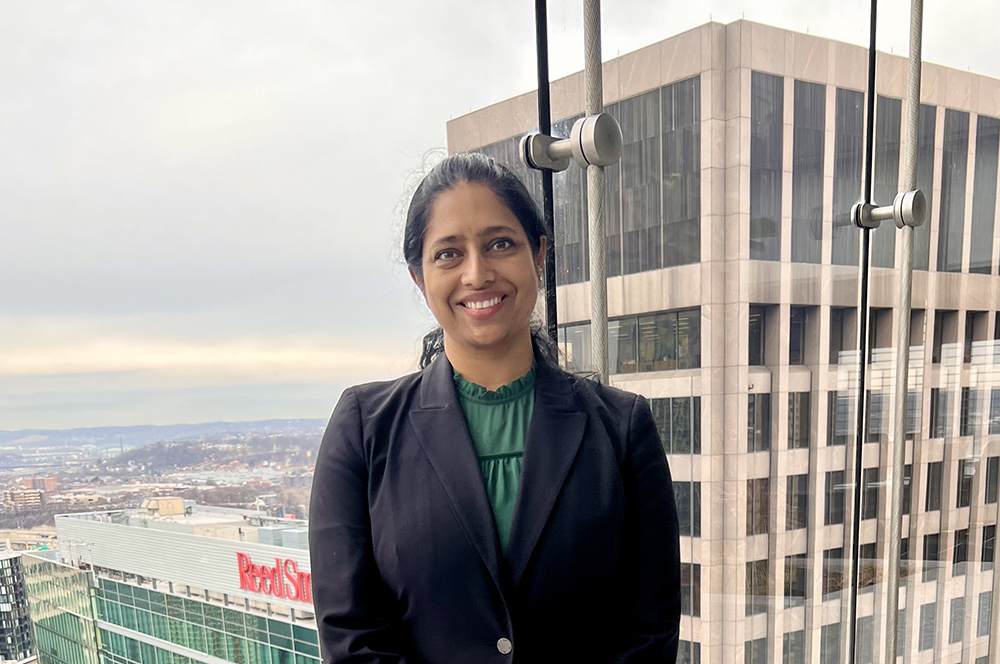 Meet Sridevi Vemulapalli '16
Job Title & Employer

Vice President, PNC Financial Services

Major

MBA

Hometown

India

Now Living In

Dallas, Texas
"I highly recommend Point Park based on its reputation, curriculum and collaborative environment. Upon walking through the door, I experienced a positive atmosphere, a diverse student body and a welcoming attitude."
Sridevi Vemulapalli '16
Why did you choose Point Park University for your MBA?
When I decided to pursue my MBA, I was working in Downtown Pittsburgh at PNC Financial Services. I knew of other professionals who were enrolled in the master's program at Point Park based on its outstanding reputation and convenient location.
In my first experience walking into the school, I felt optimistic about taking on any future challenges. After talking with my advisors, the admissions team quickly helped me complete the enrollment process. I personally wanted to stay on an aggressive path, and that mindset helped me finish the degree in about a year and a half by taking three to four courses every semester.
Now that I look back on it, I realize what a challenge I placed before myself: working full time, having to raise young children, operating family-owned businesses and having a husband who often worked out of town. One doesn't realize the true essence of time management until you have a fully packed schedule and constantly need to juggle your conflicting priorities.
I persevered, although I considered taking a break during my last semester. With the help and encouragement from staff member Sally Polnyj, I was able to carve out a schedule that worked for me. This is how Point Park operates — with staff who care about you and have a positive, forward-looking attitude. They consider students' situations and accommodate them to bring their goals to fruition.
Describe your role with PNC Financial Services.
After completing my degree, my family and I relocated to Dallas, Texas. Recently, PNC has become a much more visible brand in the Texas market, which has created more opportunities. We have a technology and innovation hub in Dallas, and I am one of the Technology Market Champions who is always looking for opportunities to bring people together because of my enthusiasm to mentor and motivate employees in the market.
I apply the skills I learned at Point Park in working with students and faculty. Due to my MBA concentration in international business, I interacted with students from various countries, cultures and ethnic backgrounds, which enhanced my ability to build strong partnerships with the diverse workforce at PNC. My MBA gave me a diverse perspective and a sense of courage in bringing together and accommodating the needs of larger groups.  All these factors have played a role in the way I engage with the community.
In what other ways did the MBA program impact you?
Earning my master's degree as a working professional catalyzed the growth of my leadership contributions in all aspects of my life. When I was earning my degree, I already had management experience, but the MBA gave me the confidence to make a greater impact in the various settings I was engaged in. What I learned at work helped me at school, and what I learned at school helped me at work. The experiences were mutually beneficial.
Today I contribute in a variety of ways to my children's school district, such as serving on the school strategy committee for technology and various booster clubs. I also coach middle school students for the Odyssey of the Mind program. I volunteer my time on our city's zoning board of adjustments. I'm passionate about mentoring and advocating for women at work and outside of the office through the Sky's the Limit organization. All of these activities are based on a culmination of my international perspective and professional experience. The more education you acquire, the more you build your confidence. With that confidence, you can achieve so many things that help to have an impact on people's lives and the world.
How did Point Park prepare you for your current role?
My professional experience was primarily on the technology side of the company, and I yearned to migrate to the business side. I believed that an MBA would enhance my career, and concentrating in international business would give me a competitive edge in future career pursuits. I recently took an opportunity to work as a senior business architect, which involved interacting with the business and enterprise architecture partners on a daily basis. This transition was only possible because of the support I received from my leaders and mentors and their faith that one day I would be able to successfully leverage the knowledge I gained in IT and build deeper relationships within the business. The role I am in now is that bridge, as I am still reporting on technology, but overseeing our business needs. Every day I use what I learned through my MBA. 
Why would you recommend Point Park to a prospective student?
I highly recommend Point Park based on its reputation, curriculum and collaborative environment. Upon walking through the door, I experienced a positive atmosphere, a diverse student body and a welcoming attitude. I am appreciative of the faculty and staff for encouraging me to earn my MBA so I can continue to excel professionally and lean into my entrepreneurial mindset. They want to see their students succeed and aim to keep their students on track to complete their degree. After my experience with Point Park, I recognize that I can handle any challenge that is presented to me, and I know how to handle that with grace and confidence. I strongly believe that I will continue to grow personally and professionally, and I strive to inspire others. If I could take on so many work and family responsibilities and still complete my MBA on an aggressive path, I believe anyone can achieve a higher degree with motivation and perseverance.
Learn more about Point Park's MBA program in the video below:
Connect with Sridevi Vemulapalli '16
More About: PNC, on-site M.B.A., Pittsburgh, success story, M.B.A., Rowland School of Business, Downtown Pittsburgh, alumni