more news
Student Accounting Association Tours C.P.A. Firm Schneider Downs
Monday, April 15, 2013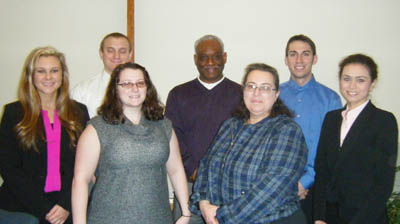 Professor Edward Scott (pictured in the center) joined members of the
Student Accounting Association on their trip to Schneider Downs.

Members of Point Park's Student Accounting Association recently visited leading C.P.A. firm Schneider Downs.
The students toured the firm's office in Downtown Pittsburgh and met with hiring managers who gave advice on how to obtain internships and prepare for careers in accounting.
"The managers who showed us around were very knowledgeable and friendly. It was a great experience," said Courtney Geruschat, senior accounting major and president of the Student Accounting Association.
Following graduation, Geruschat plans to pursue an M.B.A. degree and earn her C.P.A. license.
"The best part of the trip was getting answers to questions I had. I learned a lot about accounting career opportunities for international students," remarked Ogulnabat Mammedova, a senior accounting student from Turkmenistan and secretary for the Student Accounting Association.
Mammedova's goals are to earn a C.P.A. license and work for a public accounting firm.
"I often tell my students, 'You need to have a plan to find the position that is right for you,'" explained Edward Scott, C.P.A., M.B.A., George Rowland White Endowed Professor in Accounting and Finance. "The team at Schneider Downs gave our students great insight on how they can build effective plans for landing internships as well as jobs before they graduate."
Learn More
Check out this profile on 2010 accounting alumna Rosemary Coombs, internal auditor at Schneider Downs.

Connect with the Student Accounting Association on Facebook.
More About: accounting, Student Accounting Association, student trips, Schneider Downs, Rowland School of Business