more news
Student Accounting Association Welcomed Mark Benedetti, C.P.A., as Guest Speaker
Monday, October 28, 2013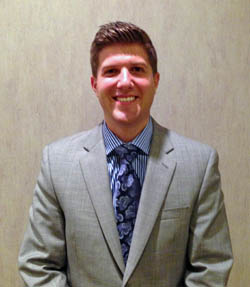 Mark Benedetti, C.P.A.

Mark Benedetti, C.P.A., a controller for R.G. Brewton Inc., an industrial distributor specializing in smart inventory management, was the latest accounting professional to speak to the Student Accounting Association at Point Park University.

"Mr. Benedetti gave a detailed, insider's view of the accounting profession including first-hand accounts of working for both small and large public accounting firms and advice for how to transition to the corporate accounting world," remarked Heidi Gregori, a senior accounting major.

Prior to R.G. Brewton, Benedetti worked as a senior accountant for Alpern Rosenthal and KFMR Katz Ferraro McMurty PC.
"It's important to hear from professionals working in the public accounting field. We can take their advice and learn from it," said Eric Davis, a junior accounting major.

Marcy King, also a junior accounting major, agrees.
"I think it's extremely important for students to hear from people who are directly working in their field of concentration because it gives students a chance to see what it will really be like and what they can expect from choosing that career path. It may excite them or allow them to see that it may not be for them," explained King.
accounting degrees program page
More About: accounting, student workshop, Student Accounting Association, Rowland School of Business