more news
Student Accounting Team Wins First Place in Auditing Case Study Competition
Monday, December 16, 2013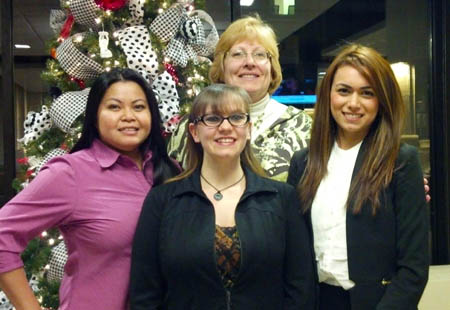 Left to right: Krueger, Docherty, Brusco and Mammedova

Point Park University's "Accrual World" team - made up of accounting students Darlene Brusco, Ingrid Docherty, Khouanchay (Kay) Krueger, and Nabat Mammedova - recently took first place in the second annual Pittsburgh Institute of Internal Auditors/Pennsylvania Institute of Certified Public Accountants Case Study Competition.
Select students taking courses in auditing and forensic accounting at Point Park this fall competed against teams from Carlow University and Duquesne University.
"Several of the students who competed are currently working in business and bring real-world experience to the classroom. I'm sure this gave them an edge. However, our traditional age students did a terrific job on the reports as well," remarked Margaret Gilfillan, M.B.A., C.P.A., associate professor of accounting. "We had very bright, dedicated and talented groups. Their reports were professional and as comprehensive and insightful as any I would expect from new auditors in a big accounting firm."
"We all worked so hard on our separate parts of the assignment and it all came together well. It was such an honor to hear that we won first place," remarked Docherty.
"The competition gave us an edge as students and showed that under pressure, we can effectively and cohesively present a case to a room full of strangers. Also, this experience is something we can discuss in an interview to help start our career," Krueger explained.
Following graduation, both Docherty and Krueger plan to continue at Point Park University to pursue M.B.A. degrees.
"The ability to work well in a team is one of the skills needed for a career in accounting. This experience was a resume booster and will make my resume stand out," said Mammedova, an international student from Turkmenbashy, Turkmenistan.

"I am very proud of all of us and feel blessed to have worked with these wonderful women," added Brusco.

The competition was held at the Pittsburgh office of Alpern Rosenthal, one of the nation's top 100 accounting firms.
More About: accounting, Rowland School of Business, M.B.A., student competition