more news
Student Human Resources Association Hosts Panel Focused on Networking
Monday, March 26, 2018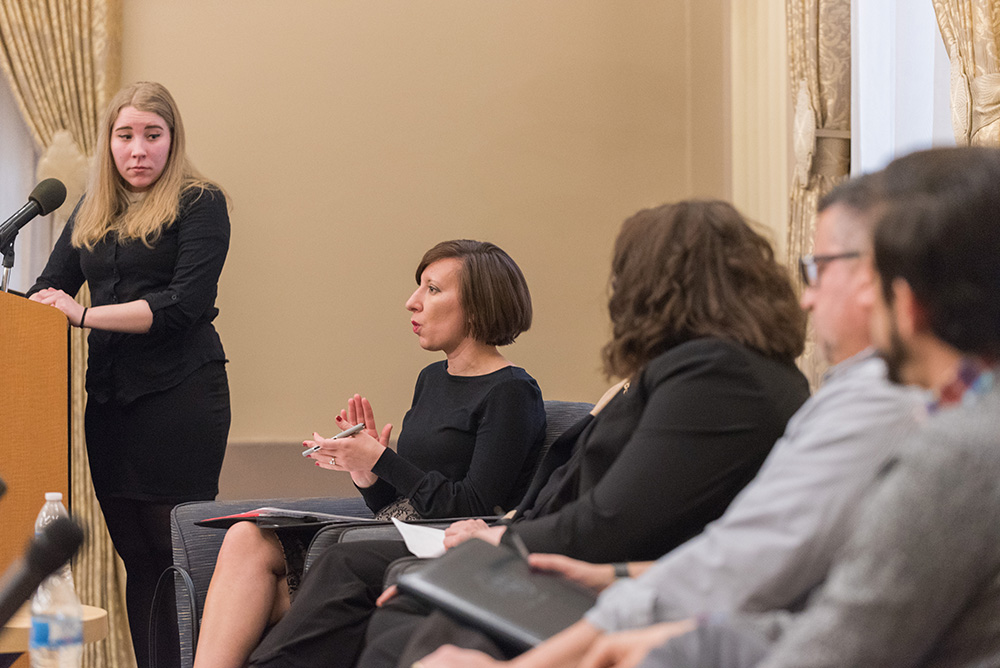 The Student Human Resources Association at Point Park University focused on the importance of networking in the human resources field in their latest panel discussion held March 19. 
"It was very beneficial to get feedback from the panelists on the do's and don'ts of networking and then being able to practice those tips with them during the networking session that followed," said Samantha Weber, a freshman HR management major from Seneca Valley High School in Harmony, Pa.
Panelists at the event were:
Kevin Ferra, GPHR, founding partner of Ferra Executive Search
Ron Kubitz, director of recruiting and HR, Forms+Surfaces
Abigail Painter, HR customer service specialist Tier 1, Highmark Health
Angela Scaramucci, director, Career Development Center at Point Park University
Gena Sproul, SHRM-CP, director of HR, Embassy Suites by Hilton Pittsburgh Downtown
Tabatha Wendorff, HR Total Rewards manager, Goodwill 
"I learned a lot about how to be successful during the interview process and how to interact with employers in a respectful way. I am very pleased that I attended this panel discussion," said Tyler Maurer, a junior psychology major focusing on clinical-community psychology from Dalmatia, Pa., and graduate of Pennsylvania Cyber Charter School.
"As an HR professional, networking plays a key role in recruiting. All of the panelists did an amazing job and had great advice. After the discussion, I talked with a few of the panelists who gave me tips since I'm an entry-level recruiter," said Nicole Corcoran, a senior HR management major who graduated from Baldwin High School in Pittsburgh, Pa.
Corcoran added: "Networking will always be a huge part of HR and I'm really happy I got to learn the do's and don'ts of it early on in my career!"
Photos by Nick Koehler, freshman photography major
More About: Downtown Pittsburgh, student workshop, The Pennsylvania Cyber Charter School, human resource management, Rowland School of Business, Baldwin High School, psychology, Seneca Valley High School