more news
Students from Various Majors Compete in Fifth Annual Business Plan Contest
Monday, December 17, 2012
Winners of the Business Plan Contest pictured left to right are Erin Faight,
Christina Rullo, Alec Robertson and Shannon Lowery with School of
Business adjunct faculty member Michael Brna, Ph.D., M.B.A. (center).

Students in various majors across the University - from biotechnology to human resource management to advertising and public relations - participated in the fifth annual Business Plan Contest hosted by the School of Business.
This year's contest featured students from the Introduction to Business course taught by adjunct faculty member Michael Brna, Ph.D., M.B.A., and was judged by Elaine Luther, D.Sc., professor of business management, Margie Gilfillan, CPA, M.B.A., associate professor of accounting and Angela Isaac, Ph.D., professor of economics and finance.

"As a science major, I was not really looking forward to a business class but I was pleasantly surprised. My group and I really learned a lot from the experience and enjoyed the process," said Erin Faight, a biotechnology capstone student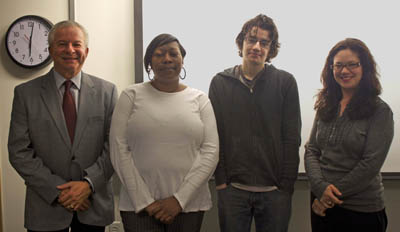 Brna joins for a photo with second place winners (left to right) Mia Everett,
Charles Dominick and Kimberly Trevors.

Faight, along with team members Shannon Lowery, Alec Robertson and Christina Rullo won first for their "Groceries R US" business plan. Their plan proposed a company that would deliver groceries to people unable to conveniently grocery shop for themselves.
"The winners were selected based on their ideas, execution and presentation skills," said Luther, who organizes the contest each year. "The first place team loved the idea of a grocery delivery business targeted to people who need the service. They soon realized that they were selling a service beyond just providing food."
Finishing in second place was "F.R.Y.: Your Gourmet Fry Connection," a plan by students Charles Dominick, Kimberly Trevors and Mia Everett that focused on creating a business on the South Side of Pittsburgh that would sell freshly baked and crispy fried gourmet fries.
"This experience helped me because I was able to better understand the challenges and obstacles that arise when starting a new business," said Trevors, a human resource management major.
Robertson, an advertising and public relations major, enjoyed the competitive aspect of the contest. "The contest gave me insight on how competing for an actual investor would be," he remarked. "Overall, the contest was a great way for students to learn not only the ins and outs of how to start a business but it also gave us the opportunity to be involved in a competitive environment and push ourselves to be at our best."

Photos by Olivia DiYanni, sophomore photojournalism major
More About: student competition, human resource management, Rowland School of Business