more news
Students Meet Warped Tour Founder, Work at Shania Twain Concert
Tuesday, July 21, 2015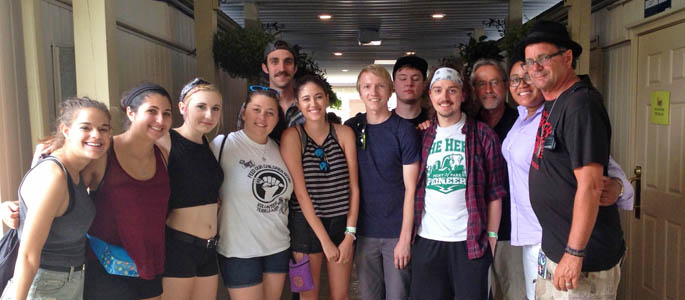 Pictured are SAEM students and Assistant Professor Ed Traversari (third from right) with
Kevin Lyman (far right), founder and producer of the Vans Warped Tour.

Students in the sports, arts and entertainment management program continue to be involved in the concert scene in Pittsburgh this summer.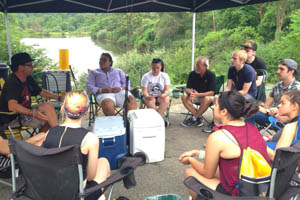 Lyman talks with SAEM students about
the Warped Tour.
Recently, 10 SAEM students went behind the scenes of the Vans Warped Tour while several others worked as production runners and catering assistants at the Shania Twain and Smokey Robinson concerts as well as the Barbershop Harmony Society International Quartet Convention.
"Our students went backstage, met Warped Tour crew members and learned about the history of this music festival," said SAEM Assistant Professor Ed Traversari, who has a longtime professional relationship with Kevin Lyman, founder and producer of the Warped Tour. "Kevin couldn't have been more giving of his time and knowledge to the students."
"My favorite part of Warped was going backstage and getting a feel for what's it's like to be surrounded by the show in a business-related sense. It reminds you you're not a fan backstage but a professional," explained Eric Johnson, a junior SAEM major.
"I enjoyed talking with Kevin as well as Chris Pollack, the sound engineer for Memphis May Fire. They gave us great insight on the business," added Cyedha Banks, a junior double majoring in SAEM and cinema production.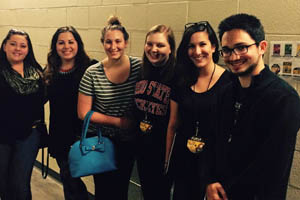 SAEM majors backstage at the Shania
Twain concert
For junior SAEM major Angela Thomas, the most beneficial experience working at the Shania Twain concert was networking with the people who work for the singer and the CONSOL Energy Center.
"I have taken many classes at Point Park that prepared me for this experience. I was happy to put the knowledge I've gained from the classroom to work. Overall, it was a wonderful experience that I am so excited to add to my resume," remarked Thomas.
Junior SAEM major Evan Pearson also worked at the Shania Twain concert and had the opportunity to meet rock singer Gavin Degraw, who is touring with Twain.
"The experience was beneficial because I learned a lot about what goes into the production aspect of putting on a concert," said Pearson.
At the Smokey Robinson concert, SAEM junior Natalie Richards enjoyed working directly with the band.
"I learned the importance of communicating well with the band manager and others who are working at the venue. Having everyone on the same page is what kept everything running smoothly," she said.
M.B.A. student Rachel Vigliotti worked as a production runner at the Barbershop Harmony Society International Quartet Convention.
"I worked with two AEG Live touring production managers who had around 50 years of combined experience. One of the managers reached out to me after the event to let me know he had forwarded my resume to his HR manager," said Vigilotti, who is concentrating her M.B.A. degree in SAEM. "It was certainly a worthwhile experience!"
Learn More
Request information about the SAEM program and the SAEM concentration within the M.B.A. program.
More About: student trips, sports, arts and entertainment management, Downtown Pittsburgh, student workshop, Rowland School of Business