more news
Students show marketplace savvy in business plan contest
Monday, January 17, 2011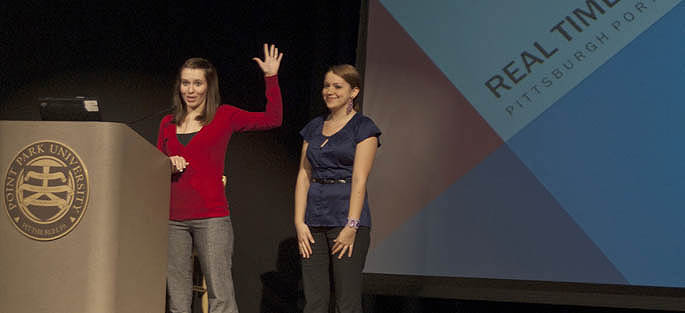 Students Rebecca Wood and Caitlin Atkinson give their presentation for the 2010 Business Plan Contest.


Students in Point Park University's Introduction to Business course gain real-world experience with a healthy dose of friendly competition in the School of Business' annual Business Plan Contest. The third annual contest, held fall semester, was no different.

The Winning Plan
Click the image above to see a .pdf of the winning presentation.
Related links
School of Business
Undergraduate business majors
M.B.A. programs
Request information
"I have been teaching at Point Park for 15 years," said Elaine Luther, D.Sc., professor in the School of Business and founder of the Business Plan Contest. "What I began to realize was that students were bored with research papers. And frankly I was bored with reading them."
The Business Plan Contest offers an opportunity to challenge students in a new way.
This year, more than a dozen groups of students in BMGT 101 participated in developing a business plan. Five of those groups advanced to the final round of competition.
The winning concept, developed by students Caitlin Atkinson and Rebecca Wood, leverages the power of social media to help Pittsburgh public transit riders, including many students, make most efficient use of the system.
"Rebecca and I ride the bus. We are often complaining that we are late to class because the bus is late," said Atkinson, a junior double major in advertising and public relations and digital media. "I have a smart phone and naturally thought an app would be a good solution for transit riders."
The concept, called Real Time Applications, is simple. Users download the app to their smart phone. Through this app, users can look up their bus route, view all the stops along that route, and get a real-time update on when buses left each stop. Users can also use the app to check in at their stops and add comments so other riders know what to expect.
A business plan requires more than just a cool concept. Atkins identified the target market for promotions. Wood, a freshman accounting major, crunched numbers and worked out how Real Time Applications would be financed. It was only fitting that the duo leveraged social media to gather information for their concept. They created a survey and sent it to people they knew on Facebook who fit the target demographic.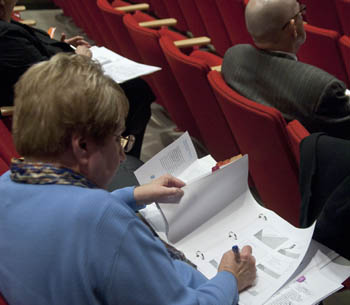 They put all their information into a PowerPoint presentation that impressed the judges.
"It was exciting to get feedback from business leaders and to see such a positive response to the concept," Atkins said.
"I really enjoyed this project," Wood said. "I never thought an assignment like this would be fun."
After their presentation, a couple of the judges approached them to offer their knowledge and resources should they wish to develop Real Time Applications further.
Both Atkins and Wood feel the course is worthwhile for all students because no matter the major, we are all affected in some way by business.
"Business is something everyone needs to understand," said Wood. "The concepts you learn in this class are important for everyday life."
2010 Business Plan Contest Judges
• Michele L. Langbein, assistant professor and director of undergraduate accelerated business, School of Business
• Diane Maldonado, associate vice president for academic & student affairs
• Lori Molinari, assistant professor, School of Business
• Andrea Wachter, professor, School of Business
Second Place Team
Each member received a $50 gift card to the Point Park bookstore
Pomona - Holly Croteau, Natalie Lohler, Kim Skoglund and Nate Zerambo
Additional Teams
College Cuts, A Cut for Every Campus - Sarafina Brooks and Evan Flattes
Smoke n'a Pancake Hookah Saloon - Anna-Maria Boshkova, Erica Buck, Rebecca Canterbury and Justene Lepley
Checkout Delivery Service - Adelyn Bidenbach, Joelisa McDonald and Marguerite Sutton
Think Outside The Bun, Taco Bell Franchise - Kayla Longo and Gerri White
RUNBUD INC., The Runner's Robin, Everybody Needs a Sidekick - Ashley Goodsell and Michele Tabaka
Movie Theater - Tiana Harris, Taylor Sypherd and Amiel Williams
Bullseye Pizza - John Bursick, Katharine Grove, Eric Odioso, Alex Page and Andrew Schacht
Point Station Snack Shop - Tyler Andrews, Joel Brewton, Alicia Johnson and Pam Mitchell
The Market, a Farmer's Market - Brandon Burch, Octavia Floyd and Micael Hurd
Liquid Nightclub - Ashley Funkhouser
Berry Queen Frozen Yogurt - Danielle McKelvey and Thomas Smith
Campus Cutz - Marquia Watson
Photos by photojournalism major Gabrielle Mazza