more news
Sudan Refugee Succeeds as Accountant and Grad Student at Point Park
Tuesday, May 17, 2011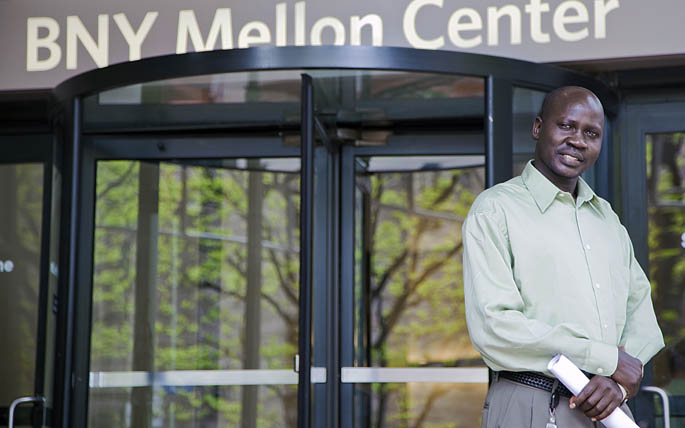 Panther Bior, an accounting analyst for The Bank of New York Mellon, is currently pursuing a master's degree at Point Park in organizational leadership. He also earned a bachelor's degree in accounting from Point Park.

At 30 years old, accounting analyst and Point Park M.A. organizational leadership graduate student Panther Garang Bior has already gone through more hardships in his life than many people will face in their lifetime.
At age six, Bior was forced to escape to the jungle when the Muslim Sudanese Government attacked his village in southern Sudan. He became part of a mass exodus of 27,000 boys who are now known internationally as the "Lost Boys of Sudan."

Bior spent the next five years hiking more than 1,000 miles barefoot throughout Kenya and Ethiopia, seeking refuge from genocide, disease and starvation. Finally, he made it to a refugee camp in Kakuma, Kenya, where he stayed until 2001. He was then granted asylum by the United States and chose to live in Pittsburgh.

Within two months of arriving to Pittsburgh, Bior landed a full-time job and enrolled at the Community College of Allegheny County, where he earned an Associate of Science degree in accounting. He then traveled back to Africa to marry his girlfriend, Nyanthiec.

After the wedding, he returned to the United States to fill out the necessary paperwork to bring his wife to the United States. To meet financial challenges, Bior worked at night while pursuing a bachelor's degree in accounting at Point Park during the day.

"Panther lives his life with honor and dignity and truly knows what sacrifice means," said Cheryl Clark, associate professor of accounting, who served as Bior's undergraduate academic advisor.
For several years in a row, Bior can remember sleeping for only three or four hours a night. "I remember being so tired in class one day and Professor Clark telling me, 'Hang in there. The hard work now will pay off in the future.'"
In 2008, Bior earned his bachelor's degree in accounting and soon landed a job as an accounting analyst for The Bank of New York Mellon. His Point Park journey did not end there. With the desire to eventually lead a nonprofit organization, Bior decided to enroll in the University's master's degree program for organizational leadership.
"Competent leaders are needed in today's challenging business world," explained Bior, when asked why he chose to study organizational leadership. He chose Point Park again for several reasons. "Point Park is my community. I like it because of its small class sizes and close location to my job. Students are likely to get all of their questions answered by professors."
Helena Knörr, Ph.D., assistant professor of organizational leadership, stresses to her students the importance of looking at leadership from a global perspective.
"Panther's collaborative leadership style has a way of encouraging everyone to get to the finish line," said Knörr. "He speaks from the heart and brings so much value to the classroom."

Bior lives in Castle Shannon with his wife and two children. His journey as a "Lost Boy" was featured in the 2006 National Geographic award-winning documentary, God Grew Tired of Us, produced by Brad Pitt and narrated by Nicole Kidman.
"Panther never complained and just kept working toward his goals. Now he has a family, is working on his master's degree and is holding down a full-time accounting position," said Clark. "What a success story."
Although it has been several years since Bior escaped Sudan, he has not forgotten about the children still suffering there. He is fundraising to have a school built for the 2,700 children in his home village who currently meet under a tree for schooling. To learn more about the nonprofit organization he supports, visit www.iwashungry.org.
More About: M.A. in leadership, alumni, BNY Mellon, Rowland School of Business, accounting