more news
Teaching Students to Be Ticket Masters
Tuesday, August 28, 2012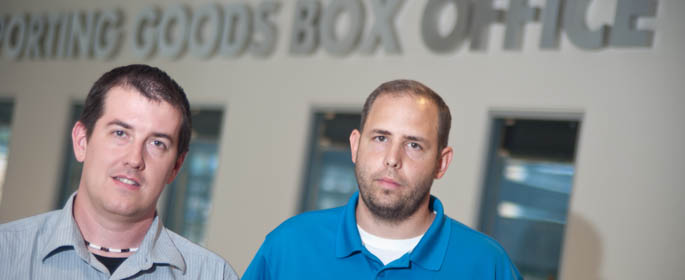 SAEM ticketing class instructors Jason Varnish (left) and Anthony Dennis
SAEM One of Few Programs in the Country to Offer Class on Ticketing Systems
For students looking to break into the entertainment industry, the new ticketing class offered in the sport, arts and entertainment management program at Point Park puts them a row ahead of their peers in the field.
"I took the ticketing class because I wanted to have a working knowledge of how a box office operates," said SAEM junior Amanda Rudy, who took the inaugural class this past spring. "My favorite aspect of the class was being able to meet top people in Pittsburgh's ticketing scene and network with them."
The course, co-taught by Anthony Dennis, director of sales and box office management for the Pittsburgh Playhouse and Jason Varnish, box office manager for the Consol Energy Center, is considered a rarity in business education. When Dennis and Varnish were developing the class, they could only find one other university (Yale University) that offered something similar.
"Understanding ticketing is critical to success in the sport, arts and entertainment field," explained Dennis. "Without the box office, there are no theater patrons, no fans - and ultimately no sports and entertainment."

Careers related to ticketing can range from marketing representative to box office manager. Also, new positions related to ticketing technology are emerging as well.
"What you know in ticketing can help you so much in marketing, too. Plus, starting in the box office is a great way to get your 'feet wet,'" added Varnish.
According to Varnish, the class goes far beyond the process of just selling a ticket. It introduces students to major electronic ticketing systems and covers areas such as secondary ticketing, ticketing technology, seating schematics, scalping, revenue strategies and marketing. In addition, students get to assist with major events at the Consol Energy Center and create proposals for mock shows and festivals based on real information from previous concert performances.
The ticketing course will be offered through the SAEM program again this spring.
"Overall, we show the students that ticketing is interwoven with everything they will be doing with their careers in the sport, arts and entertainment industries," said Varnish.
In the News
More About: Rowland School of Business, sports, arts and entertainment management