more news
Toronto Native and Alumnus Matthew Annecchiarico a Staff Accountant at KPMG
Tuesday, June 4, 2013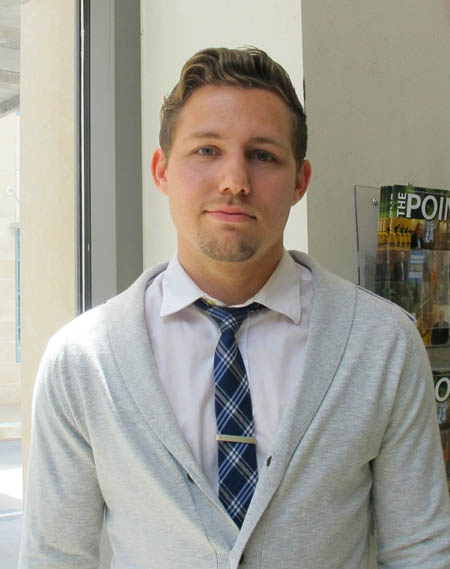 Meet Matthew Annecchiarico
Job title: Staff Accountant
Employer: KPMG
Degree earned: Bachelor of Science in Accounting and Business Management
Graduated: May 2013
Hometown and current residence: Toronto, Ontario
Internship: Tax preparer, Jackson Hewitt Tax Service
College activities: Men's Soccer Team and treasurer for Student Accounting Association
Point Park honors and awards: Dean's list, academic scholarship recipient, scholar-athlete award and Capital One Academic All-District First Team
Hobbies/interests: Tax preparation, politics, current events, soccer, volleyball, golf, fashion and music
How did you land your position with KPMG?
With the help of the Point Park Career Development Center and its career fair, I landed a job at Jackson Hewitt Tax Service. With this experience, my involvement on campus in the Student Accounting Association and a 3.5 GPA, I was able to build a resume worthy of getting noticed by a Big Four accounting firm. I interviewed with KPMG's U.S. Corporate Tax Group in Toronto, Canada multiple times throughout my junior and senior year until, with great delight, I was finally offered a job as a staff accountant.
Why did you choose Point Park?
I was offered athletic scholarships to a few schools around the United States but after researching these schools I found that Point Park had a number of advantages. The University's location in an urban setting combined with the small class sizes made Point Park the most attractive. Being able to play the sport I love while attaining a bachelor's degree ultimately determined my presence at this University.
Please describe the teaching style of Point Park's accounting professors.
The accounting professors are all very helpful. They have worked in the field so they know how to teach the theory but also apply it to real-world situations. They have been able to supply me with the resources and technical know-how to achieve my academic and career goals. All of the professors at Point Park created an exciting atmosphere that embodied the education experience one could hope for in a college.
In what ways has Point Park helped you reach your career goals?
Point Park has given me the resources and knowledge to succeed in the real world. I have been able to achieve all the short-term and long-term goals I set out to accomplish over my four years of education. Point Park's professors, Career Development Center and extra-curricular activities have collectively helped me set my career path and follow through on opportunities to get me to where I am today.
More About: international, Rowland School of Business, Student Accounting Association, alumni, Career Development Center, success story, student athletes, accounting