more news
Women in Industry Event Features Director of Supplier Diversity for 84 Lumber
Wednesday, October 4, 2017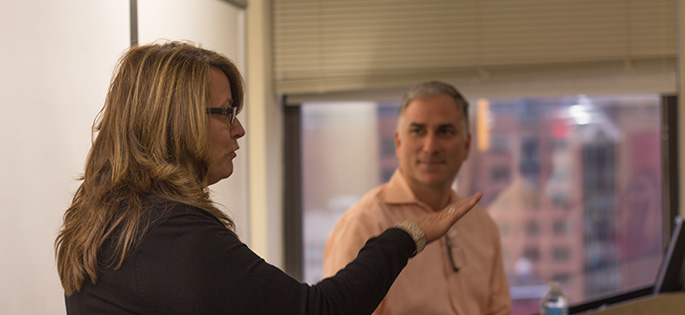 Pictured: Amy Criss and Steve Tanzilli, J.D., dean of the Rowland School of Business
84 Lumber Company's Director of Supplier Diversity and Women Business Enterprise Development, Amy Criss, spoke to students at the latest Women in Industry Speaker Series hosted on campus by the Rowland School of Business.
At the Sept. 27 event, Criss talked with students about the variety of work she does for 84 Lumber - from promoting diversity and inclusion to developing new business opportunities.

84 Lumber is the nation's leading privately held supplier of building materials, manufactured components, and industry-leading services for residences and commercial buildings.
"Take every opportunity to learn and grow in your career, even if it seems like a stretch," Criss told the students.
"Also, take advantage of the co-op program at Point Park so you can get out there and experience what you're learning," she added.
"The main takeaway I got from Amy's presentation was the importance of establishing a network of supportive people in which you can help open doors for one another within the field," said Emily Maxwell, M.B.A. student and graduate assistant for the Rowland School of Business.
M.B.A. student and graduate assistant Jessica Martin said: "The piece that stuck with me the most was Amy's discussion on gender."
"You would think a woman working in the lumber industry would face discrimination based on gender. However, Amy explained that it's more about how you perceive it," added Martin, who also works part time in sales and marketing for the Pittsburgh Penguins and Pittsburgh Steelers.
84 Lumber is nationally certified through the Women's Business Enterprise National Council as a woman-owned and operated business, and was named on Forbes' 2016 and 2017 List of America's 250 Best Mid-Size Employers.
"I learned that it is important to have a mentor along your career path and to open yourself up to change," explained M.B.A. student Rebecca Norton, senior analyst for BNY Mellon.
A key piece of advice Criss shared with the students: "Network always. Your connections will help you grow your career."


Photos by Annie Brewer, junior cinema production major
More About: student workshop, graduate programs, M.B.A., Rowland School of Business