more news
Workshop Immerses High School Students Into Sports, Arts & Entertainment Industries
Friday, August 22, 2014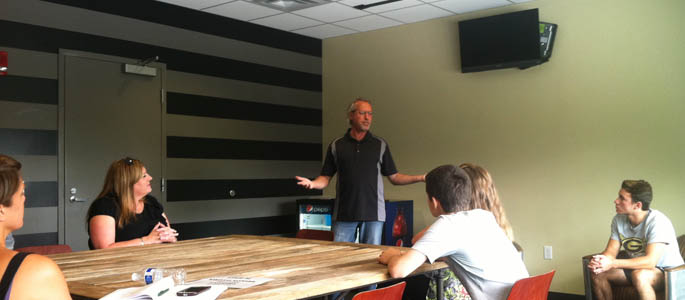 Professor Ed Traversari (center), and Amy Cooper, director of marketing for Stage AE (pictured left), talk to the SAEM high school workshop attendees about careers in live entertainment management.
Students Get Preview of SAEM Course to Be Taught at Their High Schools
Talk about a great ticket. At the annual sports, arts and entertainment management summer workshop, high school students got an insider's view of Stage AE, heard a live performance from Greg Joseph of The Clarks and toured the Benedum, Byham and Pittsburgh CLO Cabaret performing arts venues, among other activities.
In addition, several students who attended the workshop from Montour and South Fayette got a preview of the Point Park Introduction to SAEM 101 course that will be taught at their high schools this fall in collaboration with the SAEM department.

Among the individuals teaching the course is April Fisher, a business education teacher at Montour High School.

"The SAEM course gives students early exposure to the sports, arts and entertainment industries as well as a competitive advantage over their peers," explained Fisher.
Nicole Pixley, who will be entering her senior year at Montour, will be taking the course with Fisher this fall.

"I was honored to be a part of the SAEM summer workshop. I learned so much in three days and it was extremely helpful toward my future goal to work in the entertainment business industry," she said.
About the SAEM Course at High Schools
Point Park's Introduction to SAEM 101 course is currently being offered to seniors at both Montour and South Fayette high schools. Students who earn a "B" letter grade or better in the course receive three credits toward an undergraduate degree at Point Park.
The SAEM department's goal is to expand the introductory course to additional high schools in the Pittsburgh region.

If you are interested in offering the SAEM course at your high school, contact Steve Tanzilli at 412-392-4742 or stanzilli@pointpark.edu for more details.
---
Take Action
SAEM department
Schedule a campus visit
Request information
Garrett Freese, also one of Fisher's students, described the workshop as a "crash course into the SAEM business."

"The professors made it very interesting with their stories and knowledge of the business," remarked Freese.
During the three-day workshop, students learned about event management, sports and entertainment law, venue design, facility management, marketing and promotions, talent representation and more from SAEM faculty and guest speakers.
One of the guest speakers was Amy Cooper, director of marketing for Stage AE. She talked to the students about contracts, creating marketing plans for shows and the importance of being a good team player.
Cooper also shared stories about her experiences working with various genres of bands and discussed Point Park alumni and students who have worked and interned at Stage AE.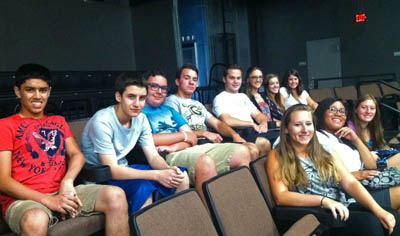 "Working and interning here opens up a lot of doors," she said.
"This workshop is a great opportunity for high school students to be immersed into the sports, arts and entertainment management industries while learning from instructors with practical, real-world experience," said Steve Tanzilli, J.D., associate professor and chair of the sports, arts and entertainment management department at Point Park University. "By offering the introductory course at high schools, we want to introduce students to the SAEM field and show their teachers the value of our unique hands-on program," added Tanzilli.
Julia Killelea, who will be a senior at Appomattox Regional Governor's School in St. Petersburg, Va., came across the SAEM workshop while doing an Internet search for summer camps focusing on careers in the live entertainment management field.
"I'm interested in working for a record label or being a tour manager or talent agent. From what I learned, I like the SAEM program a lot. I am definitely going to apply to Point Park," remarked Killelea. "I also like Pittsburgh and the city feel of the campus."
More About: student workshop, sports, arts and entertainment management, Stage AE