more news
Workshop on Sports Management Jobs and Internships Hosted by SAEM Program
Tuesday, April 16, 2013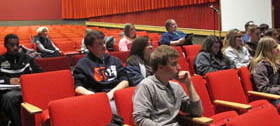 High school and college students interested in working in the sports management industry recently attended an online internship and job workshop on campus hosted by the sport, arts and entertainment management program at Point Park.

The guest speaker at the workshop was Buffy Filippell, president of TeamWork Online, LLC.
Filippell was the first female sports agent for IMG, a global sports and media company headquartered in New York City. She discussed with the students her extensive background working in sports doing multi-million dollar media buys and recruiting staff for professional sports teams around the country. Filippell also gave students helpful tips on how to network and land various internships and jobs in the industry.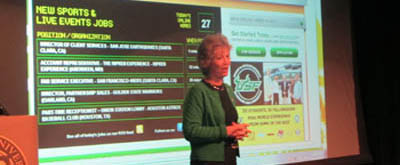 Buffy Filippell, president of TeamWork Online

"Buffy's presentation was really informative and interesting. I was impressed with all the different work she has done in the sports industry," said Jessica Martin, a senior at Brentwood High School who has enrolled in the SAEM program for the fall. "I chose Point Park because it has one of the only programs in the country that offers all three areas - sports, arts and entertainment management - in one major."
Learn More
Learn about the SAEM program at Point Park and connect with alumni through the SAEM careers page and SAEM Facebook page.
More About: sports, arts and entertainment management, student workshop